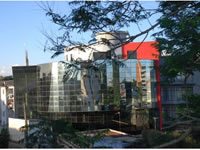 When the African Real Estate & Housing Finance (AREHF) Academy announced earlier this year that Mandhir Construction had emerged the Best Construction Company for Real Estate in Africa during their Excellence Awards held in Nairobi, it came as no major surprise.
The Kenyan company has gradually established a name for itself in the sector, having successfully completed numerous commercial and residential development projects in the country.
Founded in January 1988 and registered as a General Contractor Category B by the Ministry of Works, Mandhir Construction Limited has since executed projects ranging from residential maisonettes and apartments to hotels, lodges and factories. The company has also undertaken many refurbishment projects.
Personnel
The company is headed by an experienced team of technical personnel backed by administrative and support staff who all work in unison to ensure that projects awarded to the company are accomplished within the timeframe stipulated without compromising workmanship.
Mr D.M. Ajmera, the Founder, had over 40 years experience in the building and civil engineering sector while Mr Manish Ajmera, a mechanical engineer, has nearly two decades of experience in the same field.
Other key personnel include Mr Issac Mutua, a civil engineer who is usually the site manager in charge of building and civil engineering, overseeing construction projects. Mr Mutua also boasts nearly 20 years in the construction industry.
Mr Lalji Patel, a technician is another member of the highly experienced team. He has 27 years in the industry.
Equipment
In order to accomplish projects on time, most contractors prefer to have their own plant and equipment. Mandhir Construction Limited has various machinery, vehicles and tools ready for deployment whenever a project commences.
Some of these include dozers, excavators, compressors, concrete mixers, generators, block-making machines and vibrators. Others are winches, welding and drilling equipment, formworks and scaffolding pipes.
The company is also equipped with several lorries, pick-ups and a saloon car. In addition, operations in the offices are fully computerized to make work easier and more professional.
Some Projects Undertaken
As mentioned above, Mandhir Construction Limited has undertaken many projects. Here is a brief look at some of them:
Mara Simba Lodge (Phase 2)
Mara Simba Lodge is an exclusive tourist getaway in the Maasai Mara. The project involved construction of 42 rooms, extension of the dining area and other works. The contract sum was US$ 1.3 million. The project was undertaken in 1997.
Ker & Downey Safaris Headquarters
This project was on Langata South Road, Nairobi. It included office block, workshop building and guide bays. The contract was worth US$ 182,000 and was completed in 2000.
Exclusive Bungalows for Casabella (K) Ltd
This project, consisting of eight executive bungalows featuring built-in hardwood cupboards, granite tiles and other superior finishes, was along General Mathenge Road in Nairobi.  Other works here included drilling of a borehole, cabro paving, plumbing and electrical installations. The project value was US$624,000.
One Riverside Drive for AMS Properties
This prestigious residential development project is on Riverside Drive in Nairobi. It was completed in December 2011. It consisted of luxury three bedroom deluxe and four bedroom duplex apartments with a Miami-theme on a sloping piece of land. It is considered a mix of luxury, beauty, class and environmental sustainability all in one. (see Construction Review May 2012 issue).
Refurbishment of Mara Safari Club
This is in the Masai Mara game reserve. It involves the addition of 15 new tents, a public area, swimming pool, septic tanks, electrical and plumbing works.  The contract sum is US$ 3million.
Flats for Focus Developers
This project comprising 43 apartments is located along Msanduku Lane in Lavington, Nairobi. The project consists of seven blocks. Each block has five flats except one that has eight. The project includes a swimming pool, changing rooms, gymnasium, sauna and steam bath.  The contract is worth US$ 2.2 million.
Future
The future of Mandhir Construction Company is bright. The firm will continue to live up to the highest expectations in all aspects of its interaction with clients and other players in the construction industry.