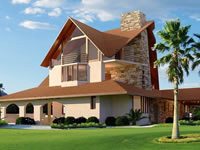 Futuristic Living
A unique high end residential development is taking shape near Nairobi.
Migaa, a concept by Home Afrika Communities Limited, promises extraordinary living for its residents by providing a mix of amenities and "green living" that totally redefine the residential development landscape in Kenya.
According to Home Afrika, Migaa is a unique residential development that captures the very essence of Kenya's natural beauty, incorporating 774 acres of land of which 48% is green open space. It will comprise 4,116 housing units.
The development is nestled between two rivers and houses two natural dams, providing the homeowner a diversity of amenities to enjoy.
Under the green concept, Migaa will feature boulevards and streetscapes, green belts, fairways, parks, trails for biking, jogging and riding as well as a host of other features.
Health and recreation facilities envisaged in this grand project consist of gyms, spas and swimming pools while hotel and conferencing facilities as well as a country club are part of the hospitality plans. There will be educational facilities from kindergarten to higher learning. Other facilities include library, coffee museum, a market and a business square.  There will also be sports facilities among numerous other features.
Migaa aims to improve the living standards of local residents by providing not only decent but also affordable housing in what will be the largest gated community in Nairobi.
The Migaa concept offers private developers a choice of plots ranging from 5 to 20 acres. Migaa also offers a choice of houses, apartments, cottages, villas, duplexes and studios, all with their own unique architecture that makes use of natural materials to complement the surrounding environment. Migaa will also offer the first of its kind property exchange, which will allow homeowners to exchange their residences for others in a process that is designed to be simple, effortless and enjoyable.
Infrastructure works such as sewer, power, water, roads and boundary wall commenced in May last year and are expected to be complete by May 2014. The housing units are scheduled to be complete in 2016.
To pull off the project, a team of top notch consultants has been put together (see project team below). According to Ray Kanno, Home Africa Project Manager, among the challenges experienced so far include pursuit of government approvals, which called for meticulous planning and assembling of a highly experienced team at the design stage.
It was also critical to seek strategic partnership with strong financial institutions. In addition, the developer is conscious of the need for aggressive marketing as it is the only way to create awareness and inspire faith in a project of such scale.
The developer says they have learnt that pre-planning and feasibility are crucial for large projects and that it is essential for financial appraisals to be done at every stage of the project. The Migaa developer is also behind the prestigious Morningside office block on Ngong Road in the outskirts of Nairobi.
Project Team
Master Planners – Elphick Proome Architects
Architects – Studio Infinity
Civil Engineers – Frame consultants Ltd
Quantity surveyors – Archiconsult, South Africa
Land Planners – Samkay consulting
Electrical and Mechanical Engineers – Geomax Consulting Engineers
Branding – Switch design Company
Selling agents – Home Afrika Limited
Nema Experts – Absolute consulting
Gate House Contractor –  Devshibhai & Sons Limited