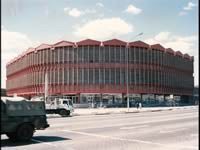 Another Gem by AMS Properties
One WestPark, a development by AMS Properties, consists of luxury apartments in the heart of Westlands, Nairobi. According to AMS, it is a new concept in urban living; luxurious apartments made with quality and style together with panoramic views, exceptional landscaping and world-class amenities making them an architectural icon.
Innovative Planning and Design Consultants, a dynamic and widely  recognized architectural firm, is behind the edgy contemporary design. Other elegant developments they have designed include One Riverside Drive and the iconic Fortis Tower on Woodvale Grove.
Both are also developed by AMS Properties.
With a fully equipped gym, 2 heated swimming pools, games room, social hall, children's playground, jogging track and meditation area, One WestPark homeowners are set to enjoy serene living.
The development comprises 2 towers each with 69 apartments, a total of 380 car parking spaces and 8 high-speed lifts.
The towers offer a combination of 2, 3 and 4 bedroom apartments as well as 4 bedroom penthouses that have magnificent views of Nairobi and its surroundings. Efficient planning also ensures that residences begin only from the 4th floor, with the first three floors ear marked specifically for parking.
The 4th level is also designated as the Club Floor for recreation and leisure.
Details
2 Bedroom Apartment
Features:
Total area: 1,800 sq.ft
–    Spacious lounge & dining room
–    Master bedroom and second bedroom
both ensuite
–    Roca Spanish sanitaryware
–    Imported kitchen with fittings
–    Pantry
–    Cloakroom
–    Balcony
–    DSQ with separate entrance
–    Yard
–    1 parking space
3 Bedroom Apartment (Type A)
Features:
Total area: 2,100 sq.ft
–    Spacious lounge & dining room
–    Master bedroom ensuite
–    Additional bathroom
–    Roca Spanish sanitaryware
–    Imported kitchen with fittings
–    Pantry
–    Cloakroom
–    Balcony
–    DSQ with separate entrance
–    Yard
–    2 parking spaces
3 Bedroom Apartment (Type B)
Features:
Total area: 2,300 sq.ft
–    Entrance lobby
–    Spacious lounge & dining room
–    Master bedroom ensuite
–    Additional bathroom
–    Roca Spanish sanitaryware
–    Imported kitchen with fittings
–    Prayer room
–    Pantry
–    Cloakroom
–    Balcony
–    DSQ with separate entrance
–    Yard
–    2 parking spaces
4 Bedroom Apartment
Features:
Total area: 2,600 sq.ft
–    Spacious lounge & dining room
–    Master bedroom & second bedroom ensuite
–    Additional bathroom
–    Roca Spanish sanitaryware
–    Imported kitchen with fittings
–    Prayer room
–    Pantry
–    Cloakroom
–    Balcony
–    DSQ with separate entrance
–    Yard
–    3 parking spaces
4 Bedroom Penthouse
Features:
Total area: 3,200 sq.ft – 3,750 sq.ft
–    Master bedroom and second bedroom ensuite
–    Additional bathroom
–    Spacious lounge and dining room
–    Prayer/TV room/Family room
–    Roca Spanish sanitaryware
–    Imported kitchen with fittings
–    Pantry
–    Cloakroom
–    Balcony
–    DSQ with separate entrance
–    Yard
–    3 parking spaces
Amenities & Development Features
–    2 Heated Swimming Pools
–    2 Standby Generators
–    Rock Garden / Meditation Area
–    8 High Speed Lifts
–    Ample Visitors Parking
–    Jogging Track
–    CCTV Cameras
–    Fully Equipped Gym
–    Social Hall
–    Games Room
–    Children's Playground
–    Borehole
–    Fibre Optic Link
–    Entry with Deceleration Lane
Project Team:
Client: AMS Properties
Architects: Innovative Planning & Design Consultants
Quantity Surveyor: Towercost Consultants
Mechanical & Electrical Engineer: Ali Seif Consulting Engineers
Structural Engineer: Widrups Consulting Engineers
Civil Engineer: Sheltplan
Main Contractor: Parbat Siyani Construction Ltd
Electrical works: Master Power Systems
Plumbing: Plumbing Systems