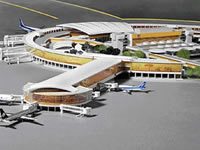 Construction of an international airport in Nakuru town has returned to the radar with the allocation of Sh250 million for preparatory work in this year's Budget.
A 642-acre land near the Kenya Pipeline depot has been earmarked for the project which encountered delays after internally displaced persons settled in the area.
The IDPS were recently moved to a 700-acre land in Subukia.
The airport is expected to provide a diversion for flights destined for Jomo Kenyatta International Airport, about 200 kilometers away.