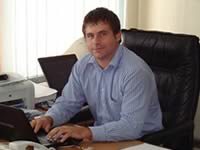 Our Editor had an exclusive interview with Mr. Jason Horsey, the General Manager of Civicon Limited and below is the QnA
Qn. Who is Mr. Jason Horsey? 
I was born and raised in Kenya which is where I received my junior education I then moved abroad to Ireland for further studies. Within Civicon there has always been emphasis on furthering education in our fields of work and it has been no different for me having since then carried out numerous engineering related courses predominantly in South Africa but also online.  This proactive attitude of the company towards skills enhancement has proved to have a positive effect on personnel as we constantly strive to improve our levels of knowledge and professionalism and the key role this plays within the organization.
I started working in Uganda over 6 years ago when Civicon increased the Ugandan scope of work to include the construction aspect of our business.
Give a brief description of the Civicon Group
Established in 1975 Civicon has thirty six years of experience working on projects for international organisations across Africa and the Middle East. With branches across Africa: Kenya, Uganda, Sudan Rwanda and Congo.
Scope of work includes:
Steel fabrication, tanks, piping, trailers, barges, boats
Green fields work with power stations (geothermal, HFO, wind)
Construction and repair /maintenance of roads and bridges
Varied logistical work using off & on road transport and heavy lifts
Equipment hire
Give a brief background and history of Civicon Uganda Ltd
Civicon Uganda was initially set up as a transit point for our trucking business to enable logistical support for our trucks that were primarily transporting food aid for the United Nations from Kenya into Southern Sudan so we registered the company and set up an office and yard in Kampala.
Shortly thereafter we were awarded the contract to transport food aid to the IDP (Internally Displaced Peoples) camps in Northern Uganda. We established bases in Lira, Gulu, Pader, Kitgum and Bundibugyo to the West. We ran a total of about thirty five, 40 ft, semi trailer trucks to carry out these works. All of the trailers were designed and built by Civicon using a novel design which allowed us to be ultra competitive in the market place.
In 2005 we moved our wealth of construction expertise from Kenya to Uganda and were awarded the diesel pipeline contract for the 50MW Aggreko Power Station in Lugogo. Simultaneously the transitioning of our predominantly transport orientated yard to a large fabrication workshop capable of handling thousands of tonnes of steel fabrication daily commenced.
Bringing with us our experience working with several of the major oil players in Kenya we successfully tendered for tank erection and piping works in Uganda. At the time the local petroleum industry was still in its infant stages in Uganda but demand for highly qualified ASME (American Society of Mechanical Engineers) certified welding and fabrication personnel surged forcing us to bring in the expertise to carry out these works from Kenya. This is no longer the case, over the intervening years Civicon Uganda has trained many Ugandan's to the very highest levels of proficiency and feel very proud to have contributed in such a substantial manner to the up-skilling of so many Ugandans.
Name the various projects you have handled in Uganda (ongoing and completed)
We have carried out numerous construction projects for the fuel heavyweights Total and Shell. Some examples of these projects include
1.Mechanical construction of the new Total fuel storage depot in Jinja, comprising 5 storage tanks and all related pipe-works.
2.Mechanical construction of the new Total LPG facility including the 1,000m3 water tank, fire fighting facilities and product piping.
3.Main mechanical contractor for Shell in all of the Aggreko Power Stations in Lugogo, KiiraMutundwe.
We have also carried out all of the mechanical works for every thermal power station in Uganda over the last 5 years. The works included all storage tanks, pipe-work, pump and vessels installation, insulation and cladding. Some examples are;
1.Namanve Power Plant for Jacobsen Elektro, comprising the construction of ten storage tanks with two HFO Storage tanks of 2,000m3 each, over 7 km pipe-work (majority insulated), the installation of pumps and numerous other units. Carried out on all pipe-work: TIG root run, acid pickling and flushing.
2.With the same scope of works as above for the Tororo Power Plant for Electro-Maxx which included the construction of seven storage tanks.
3.All three Aggreko Power Plants in Uganda for the last 6 years have used Civcon as their main mechanical contractor. The scope of works has varied from relocating storage tanks by cutting and reassembling to building new, to API 650 spec, storage tanks with all pipe-works included.
What sets Civicon apart from the rest?
I believe we are unique because we are a diverse organization with the ability to control the entire supply chain with in-house resources. A multi faceted construction company we are able take on projects on a turnkey basis without the need to draw on external sub-contractors. This eliminates the client's need to handle multiple contractors on site which from my experience tends to be very difficult and can often cause negative results in the completion of a project.
As a major transporter on and off road in East and Central Africa we are ideally positioned to provide superior logistical support to our projects. For example the work we do for various breweries around East Africa. The storage vessels are imported from European countries in a single piece (as such they are considered out-of-gauge cargo). We meet the vessels at the port in Mombasa, load them onto our tailor made low loaders, transport them to their end location and offload them by means of a crane or gantry where by this time we will have constructed the foundations for the vessels. After the installation is complete we then proceed to do all of the piping hook ups and QA/QC requirements.
Civicon also places emphasis on quality and timely delivery of our works which sets us apart from our competition. Working regularly in the oil industry has imbued in our corporate culture the concept of Quality Control as an integral part of the delivery requirements of a project. We have a QA/QC department that tracks the quality at all stages during the project's lifeline, from the receiving of materials to the necessary NDE (Non Destructive Examination) of the welded joints during construction ensuring that we comply with the specifications and procedures required.
I cannot talk about Civicon without mentioning one of our core values: Health and Safety. We have a relatively large HSE department which functions throughout the entire group of companies, with ongoing training programmes in place for all of our personnel. In Uganda alone we have conducted almost 5,000 manhours of training both in house and through third parties in 2011 and this is a figure we hope to emulate in the year to come.
Give the various services offered by Civicon
Pipeline construction
We meet our deadlines with high quality pipe work excelling through experience. Civicon has extensive experience in building pipelines ranging from ½" to 38″ lines. We ensure that all our pipe work is to international standards. We employ a large team of industry coded pipe welders and a QA/QC department so that clients can be rest assured that lines meet requirements.
Combining our pipe installation skills with craneage, transportation and engineering services, enable us to offer our clients the total package such as with the installation of a complete factory or power station as well as installation of specialized pipelines. Our piping expertise has been utilized in the Petroleum Industry, for port bunkering lines; for soft drinks factory pipeline installation, for steam collection piping for geothermal power plant; and for diesel power plants.
Off road handling
Traversing mountain and desert, ours is a record of rugged achievement, our loads go beyond the end of the road. Our approach to rugged challenges is evident in our handling of Off Road Trucking projects that present extreme difficulties of climate and terrain. Our substantial fleet of trucks with off-road capabilities has the haulage capacity to move both oversize single loads and large tonnages, and includes off-road trailers manufactured by Civicon to cope with difficult terrain. Successfully completion of large projects in some of the most challenging terrain on the planet means that behind our resources lies a depth of experience that provides us with the assurance that we can do it again.
Storage Tanks
Civicon group's extensive experience in the fabrication and installation of bulk storage tanks gives us the ability to respond confidently and effectively to the demands of each project. We provide an integrated service which includes design, material supply, fabrication, tank base construction, installation, rehabilitation and modification, pipe work and all logistics, including transport and exportation. We have the ability to provide complete turnkey installations for the Petroleum Industry and other concerns with bulk storage requirements
Steel erection
With a wealth of experience and expertise in steel erection, backed by a comprehensive range of complementary services and a skilled work-force Civicon is equipped to undertake a wide variety of steel erection projects. Our fabrication, transportation and cranage capabilities back up our steel erection engineering to provide a service that can simply raise a single tower or relocate an entire factory.
Civicon group has built numerous steel structures throughout the years ranging from warehouses to churches. Our expertise in transport, erection and cranage allows us to provide a complete package to our customers from start to finish.
Road Constructions
We build roads "beyond the end of the road". Civicon road construction has developed from the need to build roads in remote inaccessible places where the difficulty of the logistics chain, bring the supplies such as diesel; tyres; spares etc, is as challenging as the actual road building. Having supplied off road transport services for many years, Civicon is no stranger to conquering the toughest terrain. From this experience, Civicon have developed teams who go into the more remote areas of Africa and carve a new road out of the bush; living in road camps hundreds of kilometres into the interior where all maintenance and repairs have to be done by Civicon.
Civicon's experience and pioneering spirit has resulted in the construction of hundreds of km of road through some of the worst terrain in Africa. The mud and potholes of Sudan have to be seen to be believed. Holes up to 2 metres deep have been tamed within Sudan; bridges built; rivers forded.
Engineering concrete
The concrete industry throughout East and Central Africa is infamous for its low standards of construction. Civicon specializes in concrete for clients who expect the best by ensuring that we use only materials that comply with the relevant standards.
What machinery and equipment are owned by Civicon Limited?
Unlike a lot of other companies whose assets are tied up in bank loans Civicon owns all its equipment and has an extensive equipment list.
An example of our strength with regards to our machinery capacity would be in the cranes we own, a total of 36 cranes, ranging from 3 Ton overhead gantry cranes to a newly purchased 2010 model 260 T crawler crane. Or our road construction equipment for example; seven 45T excavators another five between 21 to 32T, twenty one backhoe loaders and wheel loaders and nineteen motor graders.
In our fabrication workshop we own about one hundred and twenty 400 A 3phase welding rectifiers, two 1,000A submerged arc welders, six plate rolling machines up to 34mm thickness capacity, ten lathes and twenty five generators ranging from 9KVa to 250 KVa.
What has been the biggest contribution towards attaining this success?
A major contributing factor to Civicon Uganda's success is our commitment to HSE (Health, Safety and Environment), Quality and Productivity. Each and every project is planned with these 3 core values at the heart of the planning within the team.
We are a very results orientated organisation and view the well being of our employees very highly. This approach to our employees creates a good working environment in which we can get the most out of employees.
The depth of our equipment capacity has also contributed immensely to the success of the organisation. Our large fleet of low loaders has enabled us to mobilise to projects anywhere in the region with relative ease. The value of logistical support in construction projects particularly in remote locations should not be underappreciated.
What are the challenges faced over the years
Actually we have found working in Uganda remarkably trouble free, certainly for the six years that I have worked here. The workforce is friendly and hard working and the incidences of any problems are isolated and minor.
Describe the various policies under which Civicon operates.
We have 5 basic policies under which our organisation works;
Health Policy,
Safety Policy,
Environmental Policy,
Drugs and Alcohol Policy and our
Quality Policy
When recruiting new employees they are taken in detail through each of the policies to ensure the content is fully understood.
Civicon Uganda is in the process of obtaining ISO 9001 certification which we hope to have completed by the end of the year. We strongly believe this will enhance the efficiency within our organisation and create a greater awareness towards procedures and processes amongst our employees.
Any special message
Despite the global recession the East African region seems to be booming and with many other operators in the region, Civicon's future looks bright.
Without question the oil finds in Uganda will be a major contributor to the economy of the country when it does go into production. We hope that we can be involved in the development of the infrastructure that is required for the production of oil in a country.
There are concerns that the oil revenues will be mishandled in the country however I believe that the government is now in a position to ensure that the tax gained from the oil will be put to good use to improve the well being of the country.
All in all the future of Uganda is very promising and will be a very exciting area for business in the years to come.