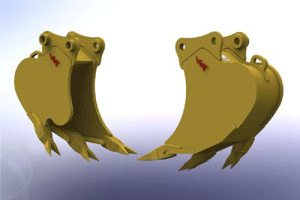 Leading Edge Attachments Inc. now offers the multi-ripper talon bucket as the new addition to the multi-ripper SHARC product line.
The LEA products often replace hammers, blasting and rock trenchers.
Designed mainly for utility pipeline contractors, the new multi-ripper talon bucket works on the same principle as the multi-ripper bucket, except the bucket is very narrow, and the leading edges have been redesigned so that the center rib can be eliminated, thus improving capacity fill and dumping for a narrow bucket.
The performance of this style of maximum breakout "one tooth at a time" bucket exceeds all other designs of rock bucket ripper combinations and has saved hundreds of thousands of dollars by avoiding the use of rock trenchers, hammers and blasting, according to the manufacturer.