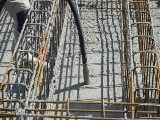 A new range of high-frequency concrete vibrators has been introduced to the local market by OLI South Africa, a subsidiary of OLI S.p.a which forms part of the WAMGROUP.
South African builders can produce more durable concrete by making use of a new range of electric high-frequency concrete vibrators introduced to the local market by OLI South Africa, which forms part of the WAMGROUP – an internationally-recognised specialist in the manufacture of screw conveyors and various other bulk material handling and processing equipment.
OLI South Africa supplies Electric and Pneumatic Industrial concrete vibrators and Flow Aids, as well as Frequency Converters and Vibrators for concrete. The range of Electric High Frequency Internal Vibrators (VNH) can be used for all concrete processing needs owing to their high centrifugal force, constant speed and high wear resistance. They are also suitable for continuous operations.
Flow Aids can be applied in improving efficiency and safety in a manufacturing plant. The flow aids are categorized as Aerator Pads and Nozzles, Vibro-Aerators, Air Cannons, Combined Hammer Blasters, Pneumatic Linear Vibrators and Pneumatic Rotary Vibrators. The company also provides options for powering concrete vibrators.
WAMGROUP offers a variety of products in various fields including products specifically tailored for concrete production. Apart from concrete vibrators, the company offers solutions for use in concrete manufacturing plants. The products are offered in specified ranges to system designers and engineers to help them maximize on efficiency, safety, and quality.
The firm also offers products in the wastewater treatment areas such as in screening, lime dosing, sludge handling, dewatering, and conveying among others including de-gritting and degreasing machinery/equipment. These equipment are also tailored to the needs of engineers and designers, and can be applied for civil and industrial wastewater treatment projects. Other areas of specialization include provision of floor milling equipment and animal feed milling equipment.