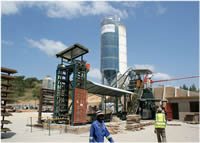 Continued dedication and commitment to product and service excellence has resulted in Pan Mixers South Africa (PMSA) being the preferred supplier of concrete brick, block and paving machinery to brick manufacturer Biaton for the past 27 years.
Nelspruit-based Biaton bricks has developed a reputation for being a regional leader in the manufacture of concrete bricks and blocks for the local paving and building industries, by making use of a range of brick and block making machines supplied by PMSA.
From humble beginnings in 1984,  Biaton Bricks production manager Hendrik Kruger notes that the company was established using a small home-made machine and then the PMSA static UNI, before raising enough capital to purchase two VB1 block making machines from PMSA later that same year.
Following years of measurable growth and success using the VB1 range, Biaton Bricks upgraded to the large capacity VB4X machine in 2011 in order to keep up with growing demand.
"Since purchasing the VB4X from PMSA at the beginning of last year, Biaton Bricks is now able to manufacture up to 2 200 pallets of paving blocks and building bricks per day for municipal, wholesale and contracting clients. This ultimately ensures that we provide a high-quality product in shorter turnaround times; thereby, gaining a competitive edge in the market."
PMSA sales and marketing manager Quintin Booysen points out that VB4X block making machines are manufactured to heavy-duty standards to ensure long life, high performance and the manufacture of high-quality products.
"The VB4X comes standard with adjustable speed control of the hydraulic functions, allowing the machine components to change their speed during the forward and reverse movement of a machine function controlled by a cylinder, resulting in faster and smoother machine operation which increases productivity and reduces wear and tear," he explains. "With the addition of the high performance option on the VB4X, which includes the addition of higher performance machine control systems, an increase in production of up to 2500 pallets per shift can be achieved."
Booysen adds that the two 7,5 kW single-shaft vibrators are mounted on a single vibration table for vertical directional vibration. What's more, he highlights the fact that an electronic PLC control allows for change of pre-vibration, feed box movement, number of feed strokes and number of pre-vibrations, while the machine is still in operation.
"These features ensure instant adaptation to changing moisture contents and aggregate consistency, without stopping the machine."
Kruger notes that PMSA has played an instrumental role in the success of Biaton Bricks, which achieved SABS accreditation in 2009, not only through the quality of its machinery, but also through after-sales service and technical support.
[quote_box_center]"We started out as a basic operation, and have grown over the years with PMSA always by our side, providing excellent quality machinery, as well as being available to offer added support and advice whenever it is required. As a result, we have seen the company expand from a small site employing just eight people in 1984, to a 2,3 ha site employing more than 100 people today."[/quote_box_center]
Looking to the future, Biaton Bricks managing director Hethlan Loock is optimistic about the outlook for the market in 2012. "The South African building and construction industries are slowly and steadily displaying signs of steady growth and, as more contracts and tenders are awarded; more money will be invested into the market. With this in mind, Biaton Bricks has proven its manufacturing capabilities over the past 27 years, and with continued support from PMSA, I believe that we can achieve further growth in 2012," he concludes.