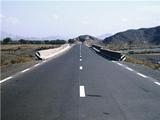 The Ethiopian Road Construction Corporation (ERCC) is to undertake one of Ethiopia's most expensive road constructions ever, a 30km road from Chancho to Becho, contracted for 553.5 million Br.
The road, part of the Fourth Road Sector Development Programme (RSDP IV), will pass through Derba and provide proper access to Derba Cement, the largest cement factory in the country. Derba Cement had offered to construct the road on its own but was rejected by the Authority, according to Haile Assegdie, CEO of the factory.
However, MIDROC Construction has already completed 42km of road for the cement factory at a cost of 180 million Br.
This construction, which is through difficult terrain, involved upgrading 20km of old gravel road from Chancho to Derba to asphalt. The first and second portions involved 8.2km of asphalt from Derba to the factory and 13.8km of asphalt and gravel road from the factory to the Mugher Valley. The third portion involved a 150 metre bridge across the Derba River.