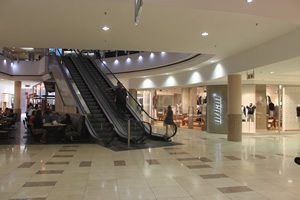 Brooklyn Mall situated in Pretoria, co- owned by Growthpoint Properties Limited and Atterbury's Abacus Property Holdings, is currently undergoing a major facelift to compliment the dynamic node in which it is located, to attract leading retail and to add international flavor in the mix.
The multi-million rand development will see approximately 25,000 m2being redeveloped, of which some 6,000m² is new Gross Lettable Area (GLA).  The work to link the two properties began behind the scenes in 2011.
The redevelopment of the mall is addressing the consumer needs, retail demand and thus attracting local and international retailers eager to expand their footprint and existing brands. The shops have been carefully selected to improve and balance the tenant mix.
As Brooklyn Mall is enhanced, many of its popular stores are also upgrading to provide the latest ambience in shopping, while the interior is also being developed to make the mall easier to navigate. It provides easy shopper flows with visual appeal produced by bright high-ceilinged malls lined with soaring, sparkling modern shop-fronts.
In addition, it introduces a sought-after 'figure 8' mall, making sure customers are never far from any single point in the mall.
FNB has also joined Brooklyn Mall with a super-modern new branch set to open on Level Three of the centre. In addition to the existing tenant mix, some of the new tenants coming on board include retail brands Pandora, Oaktree, The Space, Vienna Jewelers, Aldo and Nine West, Forever New, Food Lover's Market, hence the Pretoria shoppers have welcomed these exciting new retail labels enthusiastically.
Woolworths has opened Pretoria's much anticipated flagship Country Road and Trenery stores, followed by Pringle, Poetry, Timberland, Sobert, a new look Frasers and Swedish brand Design of Europe.
In addition, Platinum Group premium brands Jenni Button, Hilton Weiner, Aca Joe, Vertigo and Urbanhave also opened.
The project will have additional parking bays to enhance the shopping experience. The R200 million (US$21million)project being constructed in phases opened the first phase in August 2012 with final phase earmarked for completion by September 2013.
Professional Team
Client                                           Growthpoint Properties Limited
Developer                                   Atterbury Property Developments
Main Contractor                          Iguana Projects
Architect                                     IBSM
Electrical Engineering                  RWP
Mechanical Engineering              Qmech
Quantity Surveyors                     NorvalWentzel Steinberg
Fire Consultants                          Specialised Fire Technology