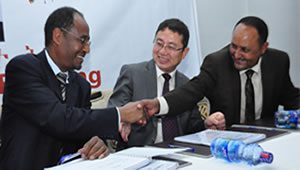 The Nib International Bank S.C (NIB) and Nib Insurance Corporation S.C (NIC) have hired the China Railway No. 3 Engineering Group Co. Ltd for the construction of their 35-storey headquarters.
The design was completed two years ago, when the companies had only 2,800sq2 of land. Since then it has added an extra 882 sq2 plot and made changes to the original design.
The construction will take place on this larger plot in front of Awash International Bank's twin buildings on Ras Abebe Aregay Street, in the area designated as the rising financial district of the city.
The Chinese company was selected out of four that had responded to Nib's tender, announced on January 26, 2013. The agreement was signed by Kibru Fondja, Nib Bank's president, Hailemariam Assefa, chief executive officer of the NIC, and Zhao Sanbao, the Ethiopian branch assistant manager of the Chinese company.
Both parties declined to disclose the total estimated cost of the project, stating that it is too early to tell. However, according to, Tagel Nigatu, a project engineer at the Bank, construction of the building will cost an estimated 1 billion Birr (US$53million).
Construction of the project, which will reportedly be completed within three to four years, is expected to begin in two months and once completed it will accommodate customer facilities, such as a four-level underground car park. According to an official at the Bank, the companies plan to construct additional buildings in Bole, in Addis Abeba, Hawassa in the Southern Regional, State and Dire Dawa, in the east of the country.
Established in May 2, 2002, by 818 shareholders, with a paid-up capital of 30 million Br (US$1.5million), the NIC has now reached 100 million Br (US$5.3million) in capital. Its sister company, NIB, established in May 26, 1999, by 717 shareholders, with a paid-up capital of 27.6 million Br (US$1.4million) has now reached one billion Birr (US$53million).
The bank has opened 70 branches across the country, whereas the insurance company has 22 branches nationwide.
Other tall buildings are planned in the emerging financial district of the city, including the 52-storey headquarters of the Commercial Bank of Ethiopia (CBE), and the 40-storey headquarters of the Ethiopian Insurance Corporation.