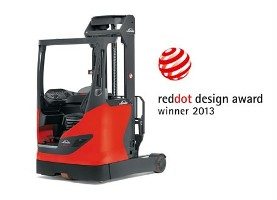 The Linde R14–R20 reach forklift trucks were awarded the internationally renowned "red dot design award" in Essen, Germany.
The high-ranking panel of judges from around the world was impressed by the truck design with its dynamic shape and eye-catching colours in black and classic Linde red.
The judges' decision to present Linde with this award demonstrates the high value they place on the visual development of the truck from a traditional work machine to a customised, highly agile and powerful high-tech industrial truck: "The R-series reach forklift trucks are designed as a sophisticated work space and provide an exceptional level of quality."
For Linde Material Handling (MH), truck design is an integral part of the brand.Through the shape and design of the trucks, Linde MH can communicate its brand values, such as performance, driver ergonomics, safety, robustness and reliability, in a visible and tangible way.
With this in mind, "form transports function" is the design philosophy of the company. To date, Europe's largest truck manufacturer has received some twenty design awards for a wide variety of models from its product range.
Forward-looking truck designs and the company's long-standing partnership with Porsche Engineering are key factors that define the identity of Linde trucks — an image that is continuously being developed.
It is not just the design of the new Linde reach forklift trucks that impressed the judges — the trucks boast a number of technical improvements and a customised driver's workstation. One of these technical improvements is the new lift mast concept, which features stronger profiles for lift heights of up to 13.0 metres.
The highly break-proof panoramic reinforced glass roof, available as an option, provides the driver with optimum visibility of the load when loading and unloading. The operating console and air-sprung seat are adjustable, allowing the driver to adapt the workstation to suit his/her body dimensions. The trucks are also fitted with features that protect the driver from shocks and vibrations, such as the new damping elements, which uncouple the workstation from the rest of the chassis.
The "red dot design award" is an internationally recognised design competition organised by the Design Zentrum Nordrhein Westfalen. The award is given for products that demonstrate outstanding design quality.
Linde Material Handling GmbH, a company of KION Group AG, is one of the leading global manufacturers of forklift trucks and warehouse technology devices, and is the market leader in Europe.
The company also offers its expertise from many years of developing and producing electrical drive systems to external customers for various applications.
As an internationally active company, Linde Material Handling maintains production and assembly plants in all key regions worldwide, as well as a global sales and service network with representatives in more than 100 countries. In the 2012 financial year, Linde Material Handling had around 13,100 employees and achieved sales of EUR 3132 billion.