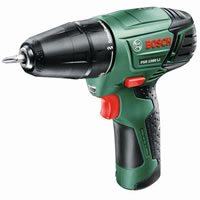 DIY enthusiasts can drill up to 200 screws on a single battery charge with the new Lithium-Ion (Li-Ion) powered PSR 1080 cordless drill from the South African division of Bosch Power Tools – a world leader in portable electric power tools and accessories.
The Bosch PSR 1080 cordless drill, which was launched locally in October 2013, boasts a two-sleeve chuck, ten torque settings for optimal power control and an integrated direction LED for improved accuracy,
notes Bosch Power Tools SA senior brand manager Juergen Lauer.
"The single-gear Bosch PSR 1080 cordless drill has a maximum power of 17 Nm, and weighs just 1,1 kg, making it the ideal tool for inexperienced DIYers. Another major benefit of theBosch PSR 1080 cordless drill is that its Li-Ion battery is constantly available for use, due to the fact that it has no memory effect or self-discharge, unlike standard nickel-cadmium (NiCd) batteries," he explains.
Memory effect causes batteries to hold less charge, and to gradually lose maximum energy capacity, as a result of being repeatedly recharged after being only partially discharged. Lauerreveals that this causes the battery to 'remember' the smaller capacity, thereby resulting in a significantly decreased lifespan over time.
"Li-Ion technology, on the other hand, involves an intelligent electronic system that controls the amount of energy that it delivers to the tool, which is always exactly the amount required for the relevant work. The PSR 1080 cordless drill is powered by a 10,8 V Li-Ion battery, which does not only ensure improved performance, but also fits into multiple tools in a similar power class to ensure convenience and long term cost savings," he notes.
Lauer adds that Bosch's Li-Ion cells are protected against overheating, overload and deep discharge, thanks to the company's proprietary electronic cell protection (ECP) technology. "This technology ensures that the electronics intervene and shut the tool downbefore the battery heats up excessively, or if the battery pack is put under excessive load.Bosch ECP also ensures that the battery cannot be deeply discharged, therefore protecting it against irreparable damage."
About Bosch Power Tools
The Power Tools division of the Bosch Group is the world market leader for portable electric power tools and power tool accessories. In 2011, the division's associates generated sales of €3.8 billion, 90 percent of which was generated outside of Germany. With brands such as Bosch, Skil and Dremel, the division stands for customer focus and extremely high power of innovation. The core success factors are the power and pace of innovation: Bosch launches more than 100 new power tools into the market every year. In 2011, around 40 percent of the sales of Bosch Power Tools was achieved with products that have been on the market for less than two years. In 2011, Bosch was able to grow faster than the market and gained important market shares.
Bosch Power Tools Contact Details
Juergen Lauer
Senior Brand Manager
Tel: (+27) 651 9600
Email: [email protected]
Web:www.bosch.co.za