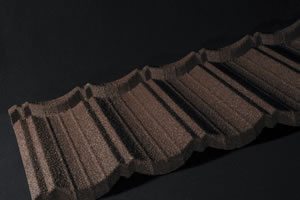 South Korean steel roof tile maker Feroof plans to set up a roofing tile plant in Kenya as it seeks to tap into the country's lucrative building and construction sector. Park Seo Jeong, Feroof's global chief executive, said the firm is aggressively marketing its roofing products in effort to establish a regional presence.
Ms Seo said they have closely monitored the growth and laid down a strategy to enter the Kenyan market with a view to increasing Feroof's revenue locally. She was speaking during a recent visit to Galaxy Heritage Ltd, the main distributors of Feroof tiles in east and central Africa.
Feroof is one of the leading roof tile manufacturers in South Korea, commanding 5 per cent of the entire stone chip-coated steel-roof market valued at US$350 million. Ms Seo said the prices of Feroof steel tiles, which are six times bigger but weigh one-sixth the weight of clay tiles, are 'very competitive.
Feroof will be the second firm after Tactile to open a roofing tile manufacturing plant in Kenya. Early this year, Tactile opened its plant in Athi River to tap into the high demand for quality roofing tiles among local builders who mainly rely on imports.
Elsewhere, Distribution & Warehousing Network Limited (DAWN), a South African company that manufacturers construction products, is planning to expand to Kenya in a bid to tap into the country's lucrative building and construction sector. The company that is listed on the Johannesburg Stock Exchange said it would set up shop in Nairobi in January 2014 to distribute its branded hardware, plumbing, kitchen, sanitary ware, engineering and civil products.
DAWN chief executive Pieter van Niekerk said they have interests in Tanzania and they have successfully exported to Kenya from South Africa during the past years adding that they want to have a presence and inventory in Kenya to improve their market offering.
DAWN said it would spend US$ 1 million to set up a fully-fledged centre in Nairobi and to hire 12 employees. The firm joins compatriots Sanlam and Stanlib, which have announced plans to invest as much as Ksh10 billion (US$115.6 million) in the Kenyan real estate sector.
Stanlib, a subsidiary of South Africa Liberty Group, recently said it was planning to invest Ksh5.2 billion (US$ 60.1 million) in construction of a maximum of two shopping malls in Nairobi within the next two years.
The projects will be financed through the US$150 million Stanlib African Direct Property Development Fund that was launched in May.
The Kenyan construction industry is expected to see tremendous growth as a result of increased population and government spending on major infrastructure projects around the country.
The value of approved home plans in Nairobi increased by 115 per cent in the first half of this year, according to a report issued recently by the Kenya National Bureau of Statistics (KNBS).