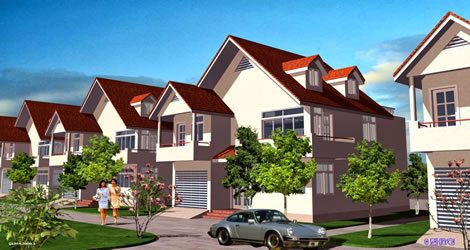 Nigerian President Goodluck Jonathan has said that his country needs a minimum of N56 trillion (US$353 billion) to be able to bridge the country's 17 million housing deficit.
‪The president was speaking at the 53rd General Assembly of the Nigerian Institute of Architects (NIA) in Abuja.
He added that the shortfall which did not cover the cost of providing infrastructure translated to an average cost of N3.5 million (US$22,055) per housing unit to remedy the situation. The president said if achieved, the task would improve on the nation's prevailing home ownership rate of 25 per cent.
‪Mr. Jonathan said his administration was aware of the conditions and the challenges facing settlements as the demand for infrastructure, basic services and housing was on the increase; adding that housing associated facilities were grossly inadequate with millions of Nigerians living in substandard environments or slums. To address the challenge, he said government recently announced plans to establish the Nigeria Mortgage Refinance Corporation, NMRC, to provide funding for the housing and construction sector.
‪The public-private partnership, PPP, initiative would be executed with the Federal Government, Nigeria commercial banks and savings and loans institutions, with the World Bank committed to providing concessional credits of US$300 million.
Mr. ‪Jonathan urged the NIA to continue to serve as a voice and platform for robust private sector mobilisation and community participation towards the achievement of sustainable urbanisation. The president said a situation whereby skilled and semi-skilled jobs in the industry were being taken over by artisans from neighbouring countries was unacceptable. He said the fact that the challenge of urban development continued to increase was a reminder to all not to become complacent but proactive in housing affairs.
‪NIA's president Ibrahim Haruna said the organisation was ready to work with government to find solutions to the problem adding that the main objective of the association is to promote the practice of the profession of Architecture in Nigeria. He said the organisation which conducts its examinations with the Architects Registration Council of Nigeria could be called upon to arbitrate in cases of dispute on housing liabilities.