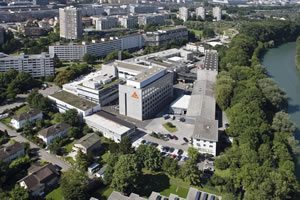 Sika completed the acquisition of AkzoNobel Building Adhesives business on October 1, 2013 after the deal was announced on August 8, 2013. With annual sales of CHF 228 million, AkzoNobel Building Adhesives is a top‐three player in its core European markets and employs 550 people. With this acquisition,
Sika will increase its product offering of interior finishing in its Flooring, Sealing & Bonding and Refurbishment markets.
The Building Adhesives business of AkzoNobel has a strong focus on the top quality segment through its leading brands Schönox,
Cégécol, Casco, Synteko and EriKeeper. With two production sites in Germany and France and a pan‐European distribution network, it supplies its customers with reliable and innovative products.
By acquiring the Building Adhesives business of AkzoNobel, Sika has broadened its product range in interior finishing products, particularly targeting the professional craftsman. Sika benefits from a complementary product portfolio which is well established within important European countries such as Germany, France, the Netherlands and the Nordics, and which will be rolled out through Sika's European and worldwide sales channels.
About 65% of the acquired business is related to the renovation and refurbishment market. Main technologies are gypsum and cement‐based formulations, used for floor leveling compounds and for water borne floor and tile adhesives. These technologies will be incorporated into the manufacturing of products at Sika South Africa's plants for the SA market.
The expertise and competence of AkzoNobel's Building Adhesives in floor adhesives and cementitious underlayments complements Sika's leading role in resin based flooring. It fits into Sika's strategy for hybrid flooring systems with its modular build‐up designed to the individual needs of customers around the globe. Furthermore, Sika expands its position in the sealing and bonding market that sees growing demand due to a focus on energy efficient building envelopes, ever greater variety of materials used in construction, increasing urbanization which means more high‐rise projects, and growing significance of low emitting materials for good indoor air quality.
Jan Jenisch, CEO of Sika: "We are happy to welcome the successful team from AkzoNobel's Building Adhesives business in the Sika family. The acquisition will make Sika a strong player in the interior finishing market, increasing and complementing our product offerings for Flooring, Sealing & Bonding and Refurbishment."
Sika AG Corporate Profile
Sika AG, located in Baar, Switzerland, is a globally active specialty chemicals company. Sika supplies the building and construction industry as well as manufacturing industries (automotive, bus, truck, rail, solar and wind power plants, façades). Sika's product lines feature high‐quality concrete admixtures, specialty mortars, sealants and adhesives, damping and reinforcing materials, structural strengthening systems, industrial flooring as well as roofing and waterproofing systems.
Worldwide local presence in 80 countries and some 15 200 employees link customers directly to Sika and guarantee the success of all partners. Sika generated annual sales of CHF 4 829 million in 2012.
For more information on Sika products and systems, visit www.sika.co.za