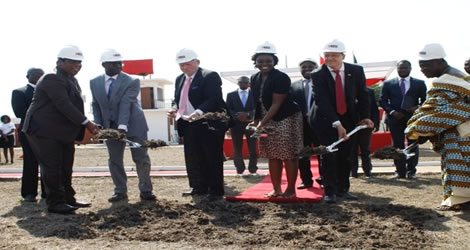 Scaw Metals has broken ground for its new 50, 000 t/y grinding plant in Tema, Ghana making it the company's first West African manufacturing facility.
The South African steel products manufacturer is establishing the US$40 million facility in partnership with Ghana-based Jospong Group of Companies and South Africa-based Guma Group and it is expected to become operational within 18 months.
Present during the ceremony was the Chief Executive of the Ghana Investment Promotion Centre (GIPC), Mrs Mawuena ,Scaw Metals chairperson Ufikile Khumalo, South African Trade and Industry Minister Dr Rob Davies, Scaw Metals CEO Markus Hannemann, South African Minister of Foreign Affairs and owner of Scaw Metals Mr. Robert Gumede
Scaw executive chairperson Ufikile Khumalo said they hold a 70 percent stake in the project with Jospong and Guma holding the balance. He added that the company's partners would not only share in the benefits but would also be required to put up their share of the project funding. The consortium would also be given first preference to supply products and services during and after the facility's construction.
According to Scaw CEO Markus Hannemann, the Ghana facility would make use of the same roll form technology that is currently in use at the company's Wadeville, Johannesburg facility.
The new plant would produce grinding media in sizes ranging from 38 mm to 76 mm, with the larger sizes still to be imported from South Africa. However, if the demand for larger sizes increases, adapting the plant to also produce larger sizes will be the natural next step for Scaw.
During the construction phase, more than 100 jobs would be created with 42 direct jobs to be created once the plant is operational.