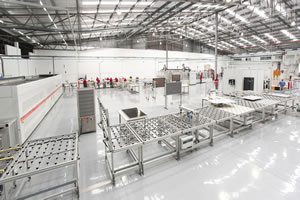 ARTsolar has been awarded a contract for the supply of photovoltaic (PV) modules in the Government's R100-billion Round 2 of the Renewable Energy Independent Power Producer Programme (REIPPP).
"This contract – which is the first in the REIPPP to be awarded to a majority South African owned (PV) module manufacturer – is an exciting development for ARTsolar," says Mark Walsh, managing director, ARTsolar.
"These PV modules, which are being assembled at the ARTsolar plant in KwaZulu-Natal, form part of the 417,1 MW PV component of Round 2 of the REIPPP.
"The company is committed to providing long term solutions to the development of the renewable energy industry, in support of the South African Government's goal's for the roll-out of renewable energy generation capacity and the development of a local manufacturing complex. PV technology, with long term cost efficient features, is a reliable and proven source of electricity, which is environmentally-friendly.
"In keeping with the REIPPP, where the creation of job opportunities, local content and community development remain essential ingredients of the programme, important considerations at ARTsolar are maximising local content of the modules, black economic empowerment, community employment, environmental protection and the manufacture of quality products in South Africa."
ARTsolar, which has made a substantial investment in the latest equipment, adheres to stringent international quality specifications and has implemented a certified training programme for the manufacturing team.
ARTsolar has teamed up in this REIPPP project with a leading global PV specialist that supplies modules and equipment all over the world. Astronergy, part of the Chint Group, is a large scale producer of PV modules in mainland China.
South Africa will benefit from the combined technologies, skills and experience of this team, also taking advantage of the successes of solar power projects implemented around the world.
Through the REIPPP initiative, the Government aims to procure and install 1,45 GW of PV capacity by the end of 2014.
Earlier this year, the REIPPP won the Green Infrastructure Project of the year award at the sixth Global Infrastructure Leadership Forum held in New York.
Additional information
The sun is the only resource needed to power PV panels and the silicon used in the manufacture of PV cells is an abundant and non-toxic material. PV modules produce no noise, no harmful emissions and no polluting gases.
ARTsolar's KZN manufacturing plant, with the latest equipment from Swiss manufacturer – Meyer Burger Swiss Solar Systems – is geared to produce 250 000 PV modules or approximately 75 MW/year.
The modules carry a 25 year generation guarantee and have an estimated 40 year service life. All modules are manufactured according to stringent quality, environmental and safety specifications.
For further information
Teri-Leigh Peach, Marketing and Communications, ARTsolar
Telephone            (031) 705 7162
Email                    [email protected]      Web   www.artsolar.net                 December 2013