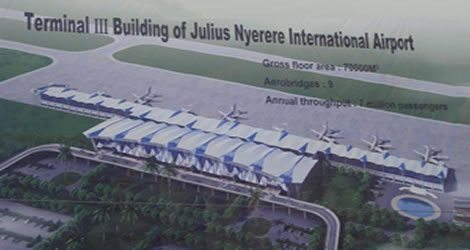 The actual construction of Terminal III at Tanzania's principal airport, Julius Nyerere International Airport
(JNIA), will start in a week's time.
The airport accommodates flights to various destinations in Africa, Europe and the Middle East.
JNIA Terminal III Project Manager, Mr. Mohamed Milunga, has confirmed that initial works including detailed design and mobilisation have been accomplished. Mr. Milunga insisted that everything was in place and the long awaited actual construction begins this week and is expected to be completed by the end of 2015.
The construction of the new terminal would upgrade the JNIA status and enable it to handle 6 million passengers per annum and would be able to handle all types of aircraft, including Airbus A380.
The Deputy Minister for Transport, Dr. Charles Tizeba, had previously assured the public through the National Assembly in October last year that the construction would kick off in January this year. He, however, could not specify the exact date of for the work to begin.
Growing at an average rate of 6.1 percent, Africa is the third fastest growing region in the world in terms of international air traffic. Not only is demand for intra-African passenger and cargo traffic on the rise but there is also an increase in demand for Africa as a preferred partner in global trade. The African air transport industry is currently worth over US$11 billion per annum with its related tourist business contributing an additional US$45.5 billion per annum.
Although Africa continues to host some of the fastest growing economies in the world, spurred by strong GDP growth in local economies, air traffic can only expand within the existing confines of infrastructure capacities at African airports.
Air traffic on the African continent is forecast to increase by more than 6 percent a year for the next 18 years and this is a clear indication that designing and building modern,world class airports is necessary if Africa is to keep up with the growth trend in air traffic.
In the recent past, most African countries have embarked on developing growth strategies for expanded airport infrastructure and increased safety ratings for international compliance.