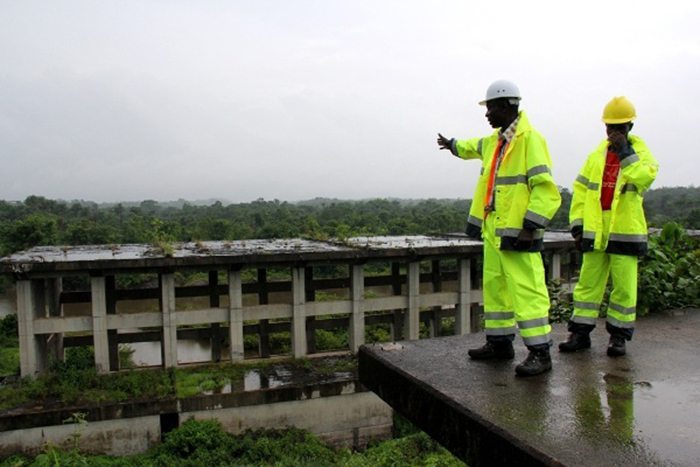 President Ellen Johnson Sirleaf has broken grounds for the rehabilitation of the Mount Coffee Hydro Electric Plant in Harrisburg, lower Montserrado County. President Sirleaf said the rehabilitation marks the beginning of a life change for the people of Liberia as it's a quest for affordable and cheap energy. She said that the project is the result of collective efforts of all Liberians who have resolved that affordable and cheap electricity is the surest way for an economic boom especially in the manufacturing industry.
Sirleaf stressed that working together as one people will further direct the country's development efforts thereby accelerating government's agenda for transformation of which energy is of top priority. Lands, Mines and Energy Minister Patrick Sendolo indicated that the rehabilitation of the Mount Coffee Hydro is a dream come true and a further demonstration of a responsible and visionary leadership for economic revitalization.
President Sirleaf urged the Harrisburg Township Commissioner as well as residents to take ownership of the rehabilitation process by cooperating with the engineers. Besides power production and transmission, the Liberian leader indicated that the local community will soon begin to benefit from fish and other water resources upon the completion of the hydro plant which would subsequently turn the community into a tourist attraction and the only way this can be realized is through ownership by the people who live there.
The Ambassadors of the two fund contributing countries, Norway and Germany, in separate remarks reaffirmed their respective countries' commitment to collaborating with government in rehabilitating its energy program.
Finance Minister Amara Konneh disclosed that the cost of the rehabilitation and upgrading of the Mount Coffee plant is estimated at US$230 million.To fund the work, Minister Konneh said Government has concluded a US$65 million concessional loan deal with the European Central Bank, while donors have committed US$107 million. Germany and Norway have pledged grants of US$32 million and US$75 million respectively with the Liberian Government having budgeted US$45 million for the project.
The remaining funds will be raised through the European Investment Bank as a loan and would help to fast track the loan acquisition.