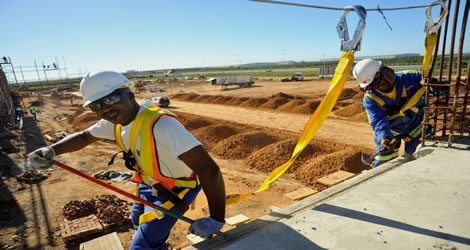 Standard Bank has joined forces with construction materials group Massbuild to provide a R20 million (US$2 million) credit facility for select black economic-empowerment (BEE) building contractors aimed at enabling them to establish sustainable businesses and improve their ability to deliver as preferred suppliers to government.
The credit facility is an initial pilot that would see Massbuild supplying building materials on credit to ten pre-selected BEE contractors who provide building services to government for community upliftment projects ranging from low-cost housing to libraries and hospitals.
Massbuild owns and operates South Africa-based construction materials retailers Builders Warehouse, Builders Express and Builders Trade Depot. Standard Bank's portion of the funding would go toward meeting the working capital requirements of the contractors, who were largely unable to obtain funding for these types of projects. In addition, the parties had appointed Tusk Construction Support Services to provide technical and operational assistance to the contractors.
The successful candidates would also receive practical support in delivering on their contracts with government, encompassing basic cash-flow management, project costing, supply chain management and the provision of on-site project managers.
Standard Bank franchising and enterprise development head Simone Cooper said the partnership with Massbuild aimed to promote sustainability among small business owners in the construction industry. Standard Bank and Massbuild said in a statement on Wednesday that they were likely to expand the total size of the credit facility and the number of participating contractors once they had evaluated the success of the initial pilot.