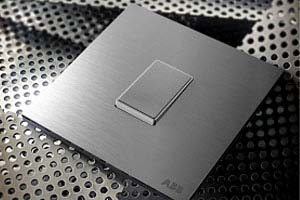 Asea Brown Boveri Ltd (ABB) is a global leader in power and automation technologies. Based in Zurich, Switzerland they recently completed ANZ Tower in Sydney which has over 44 levels and features many environmentally friendly features including high efficiency chillers, tri-generation plant, thermally shielded automated façade and rainwater harvesting.
In addition, the iconic roof structure design and highly glazed façade both help to provide high levels of daylight throughout the building. One of the key sustainability initiatives in the tower is the ABB i-bus KNX lighting control system.
Lighting in modern buildings is more than a basic requirement – it can play an important role in the architectural design and the energy efficiency of the building, not to mention the health, safety and well being of the occupants. With an impressive spectrum of products for the control, measurement, regulation and automation of lighting, ABB i-bus® EIB / KNX can perform challenging lighting tasks.
Daylight harvesting strategies have been employed to ensure that the lighting system uses the minimum amount of energy. ABB i-bus KNX light sensors located throughout the building constantly monitor the ambient light levels and automatically adjust the artificial lighting to provide the required lux levels. Combining daylight harvesting with ABB i-bus KNX presence detection ensures that the optimum light level is delivered while reducing energy wastage.
Emma Demaré, the LP Communications Manager says that ABB is known for its high quality and they boast a wide range of products which fit each market. For the African market they have a portfolio which adheres to African standards and regulations as well as customer demand/trends.
She concludes and says that they do have a local office representing ABB in most of the countries with key presence in Egypt, Nigeria, Angola, Ghana, Ivory Coast, South Africa, Mauritius, Kenya and Republic of Central Africa.