Construction of the Kenya's tallest skyscraper, 40 storey Hazina Trade Centre in Nairobi has started. The tower will be constructed atop the existing 8 storey Hazina Trade Centre located on Moktar Daddah Street and currently hosting one of Kenya's main chain stores, Nakumatt Lifestyle.
China Jiangxi International has been contracted to construct the building and is already on the site. On completion, the building will be the tallest in Kenya. The construction of the tower was stopped last year after Governor Dr. Evans Kidero said the county had not approved the construction and instead asked them to get an updated Environmental Impact Assessment report from National Environment Management Authority (Nema).
Dr. Kidero had revealed that the last report had been obtained in 2006 and there was need for an assessment to be redone. The Towers will feature an architectural design inspired by the outline of a Maasai Moran standing on one leg and leaning on a spear. The building will incorporate sustainable architectural features including; fritted glazing, vegetated roof terraces, a ventilated atrium, a helipad and a Nairobi City skyline viewing gallery.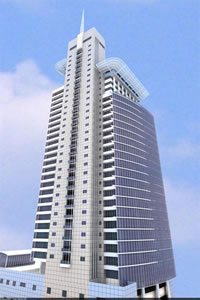 The Hazina Trade Centre project commenced in 1994 with construction works kicking off in 1997. However, due to financial constraints NSSF was unable to complete the construction and leased it out as a shopping mall in 2003 to Nakumatt Holdings. The building and is expected to get up to KES 100million (1.1 million) rent income from various tenants.