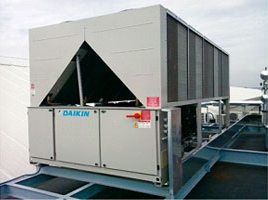 Daikin Industries Ltd has a comprehensive range of chillers to meet every requirement, offering advanced technologies that optimise performance, whatever the environment.
Chillers provide highly efficient comfort solutions for all kinds of applications – from small retail projects to large commercial and district cooling schemes. Many kinds of energy intensive, specialist industrial operations depend on chillers for precise control of process cooling and climate management. When combined with fan coil units for indoor heating and cooling, a chiller can also control the climate in your work processes. So when it comes to chilled water systems, one size certainly does not fit all.
Daikin chilling units employ advanced technology that provides highly accurate temperature control to within 0.5℃. They are widely used in applications ranging from air conditioning to industrial equipment. Recent changes have introduced new models with substantially increased capacities of up to 480 HP and various model series, including advanced inverter type units, year-round cooling type units, and units with brine-resistant specifications. By providing a full lineup of heat source series choices, Daikin offers an even more flexible array of solutions for a wide range of heat source applications.
They now have a presence in eight regional markets around the world: Japan, Europe, North America, South and Central America, Asia and Oceania, China, the Middle and Near East and Africa, and India. Daikin aims to serve their customers in each of these markets by providing optimal air conditioning products.
Paul Wanjohi, the East Africa Sales Manager says that their products have in-built power surge protector, anti corrosion, auto restart, high COP and have high efficiency making them suitable for Africa's environment.