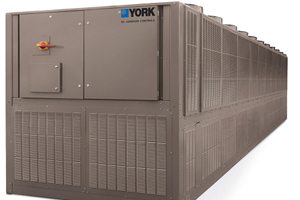 Johnson Controls is a global diversified technology and industrial leader serving customers in more than 150 countries and their focus is mainly on Africa. Johnson Controls market through many channels; they sell directly and through agents.
Neil Cameron, Area General Manager of Johnsons Controls says, "TheYVAA and YMC2 have built-in variable speed drives (VSD's) which makes them well suited to operate on generators. The YVAA and YLAA units are air cooled which makes them simple to install and operate without the need for additional water and water treatment." Johnsons recently supplied chillers to Aga Khan Hospital in Nairobi, Christ Embassy in Nigeria, Proctor and Gamble in Lagos and Buly mine in Tanzania. Neil advised that people should look for reputable suppliers that back up the sale support and spares availability.
The York YLAA Air-cooled scroll Chillers This chiller is available from 180 to 466 kW, offering a low lifecycle cost and is environmentally friendly. It is designed for smaller buildings and uses HFC-410A refrigerant which has a zero ozone-depletion potential. The recent innovation to this chiller is the use of a brazed plate evaporator, which has delivered a weight saving of 10-15%.
YVAA Air-cooled variable speed drive Screw Chillers is an efficient solution for larger applications, it is smart, sustainable and silent and uses 134a gas which is zero ozone depleting, operating at a quiet 16 dBA, and features the industry's lowest energy consumption at both design and off-design conditions. This chiller is available in 1750 kW capacity.
York YMC 2 Water-Coo Magnetic Centrifugal Chiller The 755 to 1355 kw YMC2 chiller has now been incorporated with a new variable speed drive (VSD) which delivers a 3.5 to 5% improvement in efficiency. The design of the VSD has been upgraded, as has the VSD controller, improving the part load performance.
Contact Person
Neil Cameron
Area General Manager
Telephone: +27 11 921 7141
Fax: +27 11 921 7168
Email: [email protected]