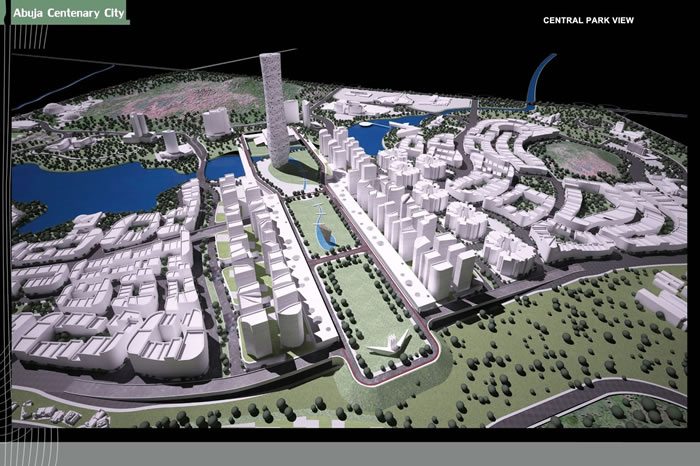 Nigeria's President Goodluck Jonathan flagged off the construction of the ($18b) Centenary City in Abuja to mark Nigeria's 100 years of nationhood.
At the groundbreaking ceremony of the City along the Airport Road, Goodluck described the project as not just a residential, but also an economic city that will be a trade free zone, modern and unique. Among the state-of-the-art facilities is a Presidential Archive in a city that will represent modernity and Nigeria's distinct cultural heritage.
He said it would also provide an opportunity for Nigerians to share in the progress and aspirations of the country, stressing that it marks the coming of age of the participation of the private sector in the development of the economy.
"It is our dream to leave a legacy to mark 100 years of our nationhood. We want Nigerians to appreciate our journey of 100 years. It will be a city of hope and elegance and a symbol of our unity." He stated.
Secretary to the Government of the Federation, Anyim Pius Anyim, whose office midwifed the project, explained that 500, 000 visitors are expected in the daily, including shoppers, workers, and tourists, among others.
It is to be managed by Centenary City Plc, a consortium chaired by former Head of State Mr. Abdusalami Abubakar, and developed by Eagle Hills Ltd of United Arab Emirates (UAE) at no cost to the federal government,
The city is expected to be the biggest private city in the world, one of the few Free Trade Zones of its status, and will signpost a new approach to attracting foreign direct investments.
Federal Capital Territory Minister Mr. Bala Mohammed said the city will sit on 1,200 hectares of land, and that the FCT administration that provided the land, would be given five per cent equity in the project.