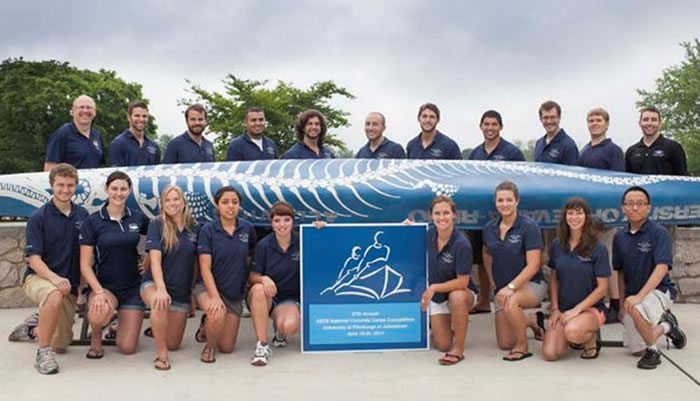 Hycrete Inc , a leader in waterproofing and corrosion protection technologies for concrete, has announced the use of its hydrophobic concrete admixtures in the winning design at the annual Concrete Canoe Competition organized by the ASCE (American Society of Civil Engineers).
The team from the University of Nevada, Reno took home first place, utilizing an optimized concrete mix design containing Hycrete's hydrophobic admixture.
According to Kristin Kramer, a University student and Co-Project Manager for the team, "using Hycrete reduced water marks left behind on the canoe after being submerged in water." "Hycrete not only improved the workability and ease of placement for our project, but I believe it also led to a better surface finish throughout our competitions," stated Devin Larson, UNR Mix Design Manager.
The company's admixtures dramatically reduce water absorption in concrete by blocking capillaries, and slowing capillary absorption. A standard commercial concrete mix has average water absorption of 4.0-10.0%. By contrast, concrete with a Hycrete admixture typically has water absorption of 0.3-1.0%. Hycrete also meets both requirements for permeability-reducing admixtures – in conditions both with and without hydrostatic pressure.
Because of its performance in these conditions, the company is often used in commercial, industrial, and infrastructure applications requiring maximum protection from water intrusion over time.
"Hycrete is proud support young architects and engineers in their educational pursuits. By sharing our knowledge and waterproofing expertise, Hycrete hopes to inspire these students to achieve their professional dreams," comments Fazal Wahab, Hycrete's Director of Engineering.
For more Hycrete information, please visit www.hycrete.com.