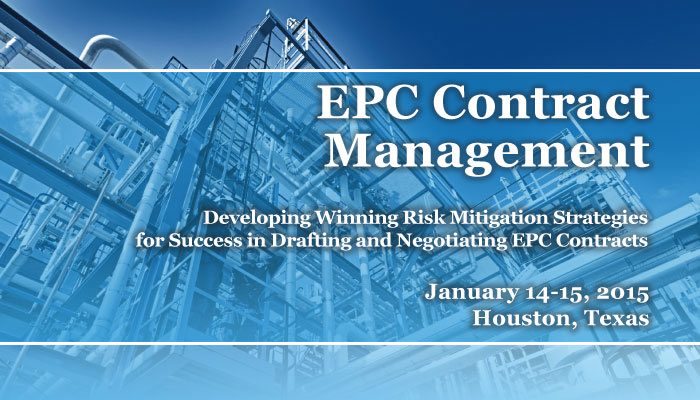 Title:           EPC Contract Management
Location:    Houston, Texas, USA
Date:           14 – 15 January, 2015
Phone:        +1 312 582 4273
Contact:      [email protected]
Website:     http://energy.americanleaders.com/epc-contract-management-forum-201501
Event description:
The management of any EPC construction project is heavily dependent on accomplishing comprehensive agreements between the contracting parties, and their consequential interpretation. As each project is unique in its essence, securing the avoidance of potential claims and failures may seem a daunting task. Take advantage of this tailored event to learn the multiple experiences with various EPC projects and benefit from the lessons learned. Meet the leaders in the field and adopt up-to-date strategies on risk mitigation into your own organization.
Learning objectives:
·Advance negotiation tactics in order to better contract performance
·Reinforce and progress the traditional risk analysis of the project life-cycle
·Accessing smart tools and strategies for enhanced due diligence of third-parties
…and much more!
Your speakers:
·Curtis Culver – Senior Counsel, Phillips 66 Company
·Clifton Rankin – Manager of Legal-Contracts and Major Projects Bechtel Oil, Gas & Chemicals, Inc
·John E. Conery, Jr. – Chief Counsel, Drilling Systems, Cameron
…see full speaker list
Who will attend:
Heads, Vice Presidents, Directors, Managers and Senior Legal Counsel from contracting companies involved in Engineering, Procurement and Construction projects, with responsibilities in the following areas:
• Contract Management
• Contract Drafting / Writing
• Contract Negotiation
• In-house Counsel
• Commercial Procurement
• Supply Chain Management
• Purchasing