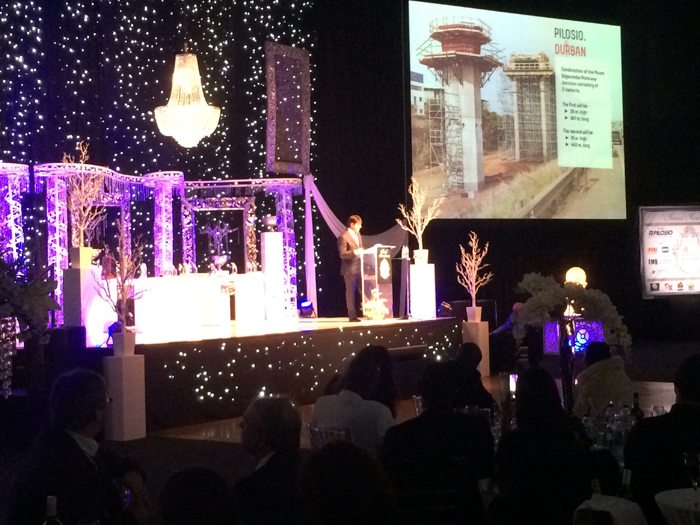 The new Pilosio structure in South Africa has been presented during the famous Master Builders Annual Award 2014 event which has been held in Durban, October 17th.
The Pilosio CEO Dario Roustayan explained that the new structure in Durban will provide projects and site services as well as formwork and false formwork not only in South Africa, but also in the neighboring countries as Mozambique.
"We are extremely proud to officially announce the opening of a new Pilosio structure in Durban and that we are committed to invest a considerable amount of economic and human resources in your wonderful country" Mr Roustayan quoted; " We strongly believe that South Africa will provide us great business opportunities and that it represents the perfect hub to serve the neighboring growth markets".
In fact, in the last years Pilosio has focused his efforts in a strong internationalization process: in three years it has achieved significant results, growing at a rate of 30% each year, reinforcing his position on foreign markets.
Today Pilosio has some infrastructures projects under construction in Africa, as a viaduct for the Mount Edgecombe Interchange in Durban and another viaducts in Mozambique.
The new structure in Durban can provide a high level of engineering support from the initial bid to the site and a 360 degrees service with the goal to reduce time, number of workers and all related costs and with a strong focus on safety.
Pilosio is an important Italian company in the field of construction and maintenance equipment. It was founded in 1961 as a manufacturer of scaffolds and formworks for above-ground walls, floors, ground containment systems, as well as equipment for both sale and rental. Moreover, Pilosio is specialized in the design, construction and sale of stage structures such as stage-boxes, platforms, coverings, and sound and video towers. Pilosio is an international company: it is not only a significant presence nationally, but it is also strongly focused towards foreign markets, in particular North Africa, United States and Canada, South America, Middle East, South Africa, Eastern Europe, Australia and C.I.S..
The company registered a turnover of almost 40 million Euros and an export quota equivalent to 80 per cent, in 2013.
Pilosio recently announced landing a US$ 1.9 m commission in Durban, involving supply of temporary construction site structures.