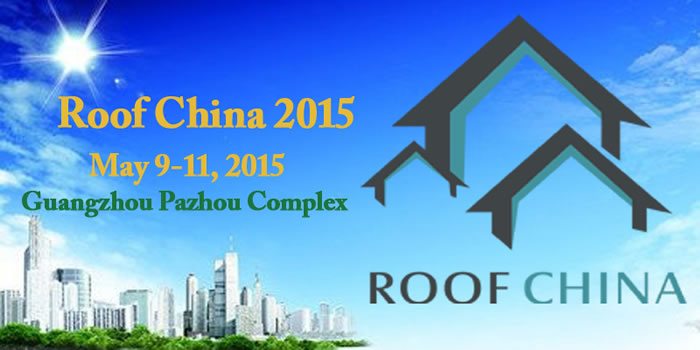 Date: May 9th-11th ,2015
Venue: Guangzhou Pazhou·China Import and Export Fair Complex (Area B)
Add: No.382, Mid of Yuejiang Road, Haizhu District, Guangzhou,Guangdong
Concurrently with: China (Guangzhou) Int'l Roof, Facade & Waterproofing Exhibition (Roof China 2015)
Occupying an area of 15000 square meters, Rooftile China 2014 attracted hundreds of exhibitors and welcomed 8000 visitors, including 1,017 overseas visitors coming from 63 countries and regions, such as France, Russia, South Africa, Australia, Canada, Thailand, India, Switzerland, Israel, and so forth. On the first day of the expo, lots of visitors were received and most of them were real estate developers, agents, international buyers, and those from design institutes, landscape engineering companies, decoration companies as well as other related institutions. As for the exhibits, they covered roof & façade materials, waterproof and thermal insulation materials, roof tiles, prefab houses, garden houses and other new building materials.
Show Review
The 4th China Rooftile & Technology Exhibition (ROOFTILE CHINA 2013) was successfully held in Area B of China Import & Export Fair Pazhou Complex during May 9-11, 2014. As a major exhibition of China (Guangzhou) Int'l Housing Industry Expo (CIHIE 2014), ROOFTILE CHINA 2014 obviously covered larger exhibition space and displayed a wider range of exhibits when compared with last edition. Items on display covered PV tiles, ceramic tiles, synthetic resin tiles, glazed tiles, thermal insulation tiles, tile presses and other products. Zhejiang Heda Solar Technology Co., Ltd. stood itself out with its innovative PV tiles which were different from traditional ones and well received by visitors and exhibitors. Its channel divisions successfully sign agreements with provincial dealers in Guangdong.
Want to tap into China or find good suppliers? Rooftile China 2015 must be the best choice! What's more, you will share exhibitors or buyers from China (Guangzhou) Int'l Housing Industry Expo which is held at the same period with the show and attracted 710 exhibitors with 40,000 square meters.
More information please contact me at any time.
Contact us:
Tel: +86 20 28945347
Fax: +86 20 82579220
E-mail:[email protected]