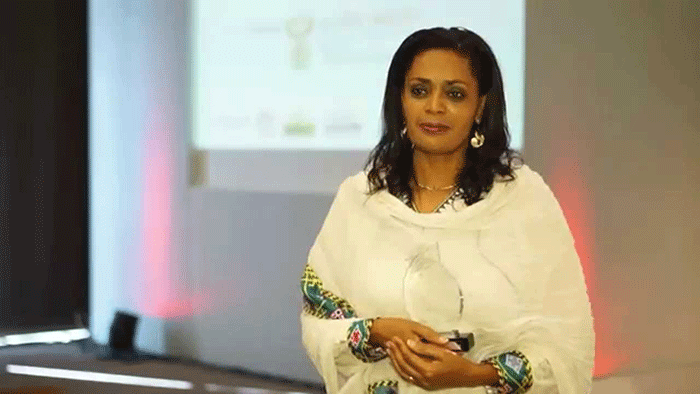 Azeb on Thursday received the award at the end of the African Construction Exhibition at the Sandton Convention Center in Johannesburg, South Africa. The Women in Construction Excellence Award is organized annually with the view of recognizing the contribution of female professionals in Africa's built environment. The award was organized by the African Construction Expo in collaboration with the South African Ministry of Public Works.
This year 11 finalists were announced under three categories- industry transformation, emerging excellence and Africa project leader. Azeb won the award under the Africa project leader category.
Azeb, prior to her current position at the Ethiopian Electric Power, served as project manager of the Gilgel Gibe III hydropower project. Gibe III, which is near completion has installed generation capacity of 1,870 MW. Environmentalists fiercely criticized the project saying that it affects the ecology of the environment, which Azeb has been strongly defending.  Debretsion Gebremichael (Ph.D.), board chairman of the Ethiopian Electric Power and inister of Communication and Information Technology, said Azeb proved her capabilities leading a complicated and challenging project. Debretsion made this statement last December when he announced the board's decision to replace Mihret Debebe, the long-serving CEO of the former Ethiopian Electric Power Corporation (EEPCo) with Azeb.
According to the organizers of the Women in Construction Excellence Award organizers, the awards celebrate the expanded role of women and drive diversity in the construction industry. "The awards honor women who have pioneered the development of the African built environment and recognize the emerging leaders of the industry," the organizers said.
"With rising education levels and general empowerment, women play an increasingly important role in economic development across the continent. Even though this is an overall positive development,, typically male dominated sectors such as the construction industry still have a long way to go when it comes to establishing diversity."
Azeb, 48, was born and raised in Arsi, Robe in the Ormoia Regional Sate. She obtained a BSc degree in Civil Engineering from the Addis Ababa University.