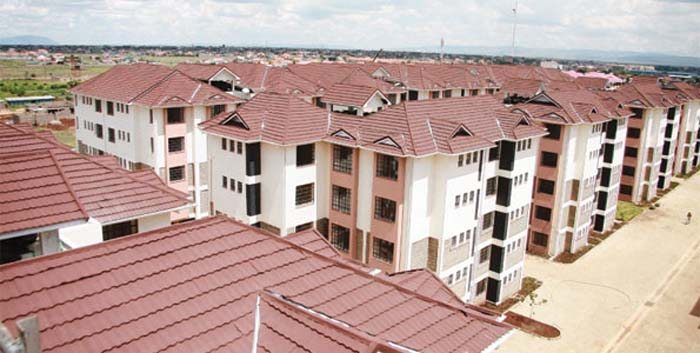 Lands, Housing and Urban Development Cabinet Secretary Charity Ngilu has asked the parliament to set aside 1.3bn KES (US$14m) for construction of housing units for police officers by end of this year. The minister, who said the government has constructed two housing units in Embakasi area Nairobi, said the police needed better housing than other civil servants in the country.
The Kenyan government in conjunction with the ministry of lands housing and urban development is also planning to construct 300,000 modern, spacious and high-rise house units for its civil servants by 2017 according to earlier reports. The development, which is aimed at replacing and renovating old government houses in the country, will lead to construction of houses that are 12 to 15 floors tall.
Lands, Housing and Urban Development Cabinet Secretary Charity Ngilu has said this week that the government would "address the acute shortage of planned land for housing development that have sent land prices sky rocketing," saying that the ministry would adopt new technologies and housing materials to cut down housing costs. She also this week, summoned Housing Finance, the National Housing Corporation, Shelter Afrique among others stakeholders in housing development to discuss the issue of affordable housing in the country.
Construction process for 300, 000 units will take place in phases with the first expected to commence this year. This is according to the director of housing, Mr. Patrick Bucha.
Construction of 10,000 houses this year will also be helpful since it will be geared towards helping non-governmental workers in the country apart from civil servants.
Mr. Bucha added that the government will collaborate with private investors in order to finance the construction development and also help in maintenance of the houses afterwards.
Land cabinet secretary Charity Ngilu also said that the government will improve the capital, Nairobi's' estates such as Shauri moyo, Park road and Starehe estates which will host majority of government workers. She added that the urgency to construct the houses should not be opposed.
Previously, it was reported that the police in the country have been living in a deplorable conditions at times forced to share one unit almost two-three families. However, it is said that the government's plan to solve the housing shortage among its civil servants could be just a dream, unless the government implements western technologies.