Changing the face of Sandton
Sandton Skye, a residential complex located on the corner of Stan road and Grayston drive in Sandton is another development designed by AMA Architects featuring three towers of 17 floors.
The 34,900 square meter landmark development, constructed at a cost of R1.5 billion (US$129m) is practically the benchmark in the investment property. It consists of a mix of one and two bedroom apartments as well the spectacular penthouses which are designed to create high tenant desirability in the market place, ensuring the investor's capital growth.
First phase
The first-phase tower of Sandton Skye was completed in October 2014 and, the construction of the second phase has commenced with the third and final yet to be constructed in the near future. Sandton Skye is a pinnacle lifestyle development in Sandton, where a new sphere of luxury has been introduced to South Africa's richest square mile.
This is a five star "urban resort" offering a world class experience, with its iconic assemblage of three wonderfully crafted towers situated on a dynamic public facilities podium. It is also a residential project with a difference in that it will function in a hotel-like fashion with luxury hotel-convenience facilities, trendy restaurant, offering a red carpet experience, cocktail bar, indoor pool.Kids are allowed into this "urban resort" where there is a kids zone inside.
The development is a blue chip investment opportunity in the financial hub of Sandton with 80% of the apartments being priced at less than R2 million(US$172,000)  at a fixed contract price, not linked to CPI or inflation, explained Lynn Petzer from Lynn Estate, who played an integral part in evolving the Sandton skyline over the past 21 years.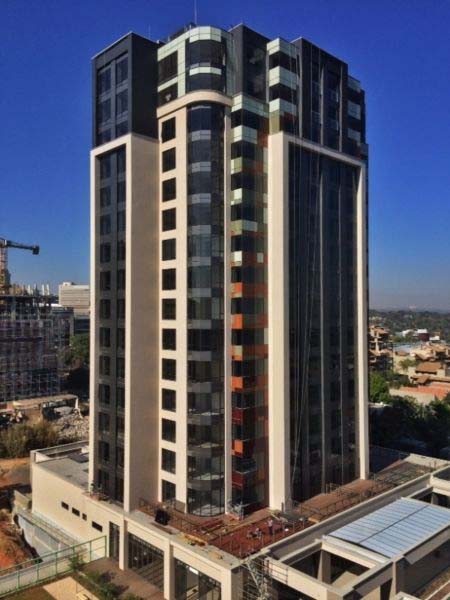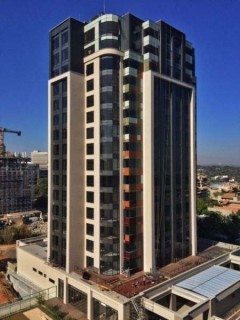 Exterior
Each and every centimeter of this development is not left un-attended, where each tower block was designed from the inside out, and further redefined in each of the 17 stories through a sculptural exterior skin that is layered in colored glass, stone cladding, aluminum and plaster render. Across the corners of these apartments is a generous panoramic view from a  premium vantage pointing one of the most privileged positions inSandton.
Interior
The individual expression of the vibrant colors' on the fabric and artworks that will be placed in the crisp interiors, complement each other perfectly, where white is placed on white, gray on sliver, and charcoal on grey. In addition 3500 square meter of landscaped gardens including an outdoor rim flow pool with wooden decks and double day bed lounger makes the SandtonSkye lookdifferent from the other residential developments in terms of the luxury of green space.
Not much brickwork was used  within the Sandton Skye building (phase 1) and instead a dry-wall system was used for most of  the internal walling.This posed a challenge when they had to come up with a solution of how to accommodate the entire plumbing system within these dry-walls but this was overcome by the use of prefabricated frames from Modern Plumbing Works which turned out to be the perfect solution for theSandton Skye project.
The completion of all the three towers is set to be in 2020
Sandton Skye Roof Drainage System
Geberit are proud to be part of the prestigious Sandton Skye project, working close together with the project team on the drainage system, ensuring the best possible and most effective solution was installed.
The Geberit Pluvia syphonic roof drainage system coupled with the Geberit HDPE piping was cleverly designed to do more than effectively drain the rain water from the roof, podium and terraces. Instead the water is collected and reticulated to discharged into the attenuation tanks.
The drainage system was further optimised by using the innovative Geberit Sovent fitting, designed for use in high-rise and multi storey buildings such as the Sandton Skye.  Geberit Sovent not only delivers an extremely cost effective,  high performance drainage system, it allows for clear and simple piping layouts, saves space in the duct, uses less material which ensures a quicker installation time.
Due to its high capacity and excellent performance Geberit Sovent is an ideal drainage solution for any high rise building.
Drainage means more than just draining away water – at least as far as Geberit is concerned.
Geberit invests a good deal of know-how in the development of innovative products and solutions to ensure that drainage technology keeps up to date with the needs and requirements on the building site.