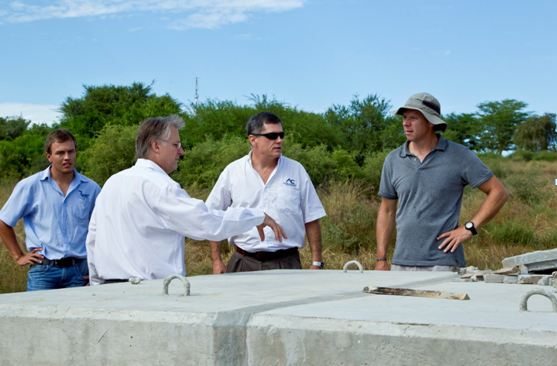 The second phase of a multi-million rand water works operation has been launched. The project, which will cost US$10.4m, will target to increase the amount of clean water to Port Elizabeth residents at a lower cost to users. The water supply project is expected to be completed in February 2017 when the third Phase, whose design is awaiting approval, will be started.
This was announced by AfriCoast Consulting Engineers, which started works on the Nooitgedagt Water Treatment Works (WTW) site last month. The project aims at doubling the amount of water available from Nooitgedagt WTW to the Nelson Mandela Bay area by February 2017. In this way, it will help solve demand gaps for water in the region.
In addition to increasing treatment capacity from 70-mega litres per day (Ml/d) to 140Ml/d, a new low-lift pump station will be installed to see the Nooitgedagt-Coega Low Level Scheme (NCLLS) complete to Port Elizabeth where construction has recently been completed. The Low Level Scheme will help reduce pressure on supply from western dams system and cut down the pumping costs, by supplying 100Ml/d.
Low Level Scheme pumps will use about 20% less power compared to High Level Scheme pumps since the latter scheme is 90 metres higher in height; this will help Nelson Mandela Bay Municipality (NMBM) save R1.32-million annually in electricity cost by saving 18,000 kilowatt hours per day (kWh/day) in energy.
The Nooitgedagt-Coega Low Level Scheme project has been identified as Port Elizabeth's next available water augmentation project following studies initiated previously by the national Department of Water and Sanitation in respect to evaluating and prioritizing water resources in the region. This is according to Stuart Fergusson, Acting Director of Water Management and Bulk Supply for the Nelson Mandela Bay Municipality (NMBM) who said that the study was called by increased demand of water in the Metro, which was over 3% per year.
"Construction of Phase Two of the Nooitgedagt WTW has commenced and will be followed by Phase Three and a further 45Ml reservoir at Olifantskop."
The new extension on the water treatment plant will see use of advanced filter technology and ultra violet (UV) light. This will mean high quality water is produced from the water treatment plant. More periods will be allowed for water treatment without the need to carry out "frequent backwashing and cleaning of the filters" according to Kevin McRae, Executive Manager for Water & Sanitation at AfriCoast Consulting Engineers, since the the water treatment plant will use a more efficient system compared to the false-floor and nozzle systems used previously. This will lead to more operational cost savings for the metro and ratepayers.
Although the water treatment plant will utilize Chlorine gas for final disinfection, there will be minimal use of the same through use of UV. The use of UV in disinfection will be a first for the Nelson Mandela Bay Municipality water treatment plants. UV acts to destroy cryptosporidium, giardia species and other harmful organisms by 100%, thus users will avoid gastrointestinal tract infections. McRae  said although the organisms had not been found in water supplied to Nooitgedagt WTW  until today, it is possible they could be present in the future considering the increasing levels of river pollution and the distance the water was travelling from Gariep Dam to the water treatment plant.
On extension of Nooitgedagt WTW water supply project via the third phase to be approved by NMBM, the water treatment works will be the largest in Port Elizabeth with a full design capacity of 160Ml/day, (210Ml/d peak capacity).
AfriCoast Consulting Engineers is based in Nelson Mandela Bay and is one of Africa's leading independent, multi-disciplinary engineering consultancy firms.