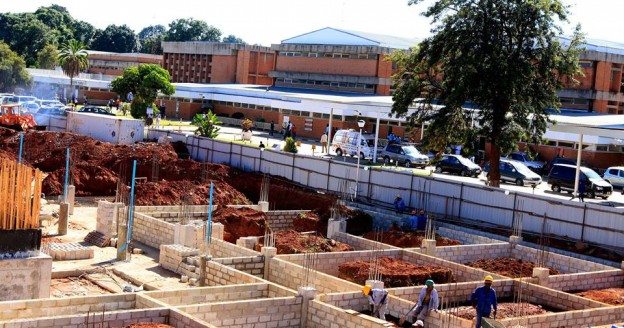 Construction of Adult Medical Emergency Unit (AMEU) at University Teaching Hospital (UTH) has not come to stand still as claimed earlier by a section of media, although it has reduced its pace.
Hau Chan Infrastructure Engineering Limited, the contractor handling the construction project has said through its Site manager Wang Hu that the construction project would be completed behind schedule as they were experiencing financial hold ups by the Ministry of Health.
This comes barely days after there was a publication in some media that alleged that the construction project of the hospital unit was on a stand still.
Currently, there is progress on the construction of Adult Medical Emergency Unit (AMEU), which will be a three storey building.
According to the cite manager, the firm had resulted into laying some workers from the site due to the finance crisis the contractor is facing.
A representative from the ministry of Health, Reuben Mbewe, confirmed that they were aware of the go slow at the Adult Medical Emergency Unit (AMEU) construction project and financial constrain issue was to blame.
The project began early last year and was expected to be complete by the mid of 2015, and the contractor believes if funds will be released on time from the ministry of Health they will be able to complete. The ultra-modern facility or unit will have 100 beds, laboratory and radiological services and a pharmacy. The construction project is part of the larger strategy to modernize and expand health facilities in the country. Part of the modernization of the UTH included upgrading the road network to bituminous standards. In addition to this, the country has been undertaking road construction projects.