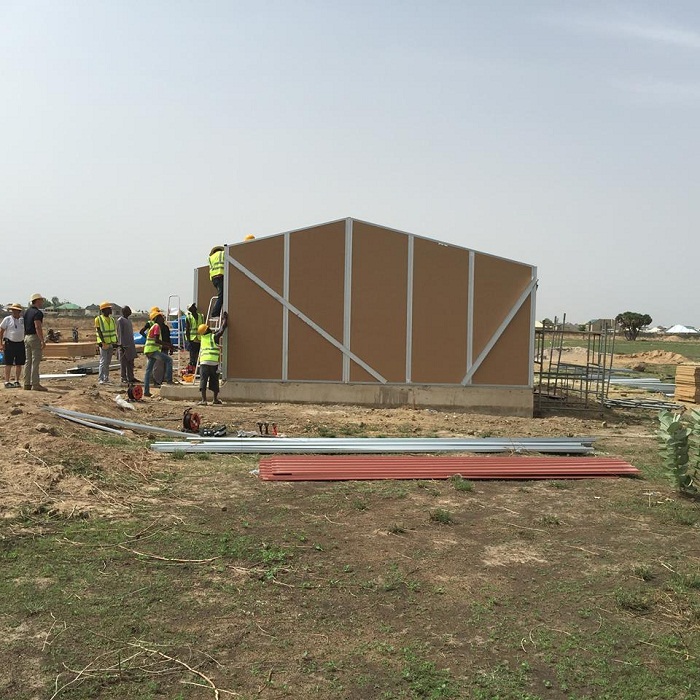 International Green Structures, LLC (IGS) headquartered in Stevensville, Maryland and Countrywide Housing Company, Limited (CHC Ltd) of Nigeria broke ground for a planned community of 504 IGStructures Community in Kano, Nigeria. This affordable housing project in Nigeria will see CHC Ltd., the developer,responsible for building, marketing and selling these houses while IGS will manufacture, train and supervise the assembly of the houses. Phase I of the project started in February with the manufacturing and shipment of four model IGStructures which, arrived in Kano in May 2015. A four person IGS team arrived on June 14 to assemble and train the CHC team. This year, Phase II of the project will include manufacturing and shipping of up to 200 IGStructures and 300 IGStructures by the end the next year.
The multi-million dollar contract for the sustainable, green housing project in Kano, Nigeria is supported by HH Emir Muhammadu Sanusi II. The three bedroom, two bath 74 square meter IGStructures will be assembled and under roof in a matter of days with external and internal finishes completed within a few weeks. The IGStructures are expected to be one of the first housing developments in Kano with a US manufacturer and supplier. The Emir and his Nigerian delegation arrived in the US in March 2015, to tour the IGS Manufacturing Facility in Ft. Worth, Texas, meet with the staff at IGS Headquarters, in Stevensville, MD and conducted meetings in Washington, DC with US Exim Bank and OPIC.
Nigeria has a deficit of over 12 million houses and based on the success of this project, IGS and CHC Ltd. will work on Housing Phase III and plan to start feasibility studies to determine the viability and location of an IGS manufacturing facility in Nigeria. IGS plans to open their first IGS Manufacturing Facility in Africa in Thika, Kenya by the end of Q4 2015.