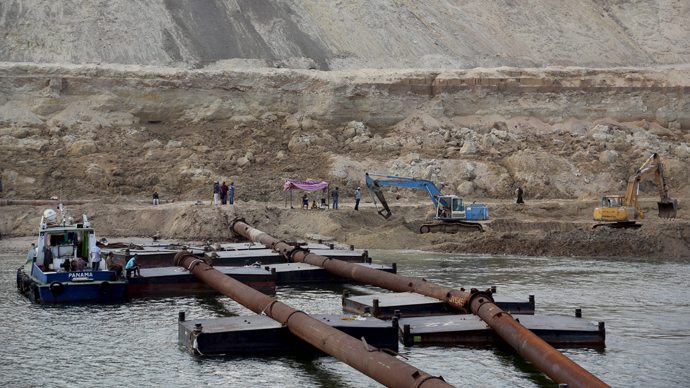 Egypt is set to open its US$4 Billion New Suez Canal project by August a move that will see a great increase capacity of the existing canal and also boost the country's economy.
The 72 Kilometer project also well know as Suez Canal Axis includes a 37 kilometer new water way and also the deepening and expanding of the currently existing over 140 year old canal which is a 35 kilometres stretch.
The head of the Suez Canal Authority Mohab Mameesh says the project will be officially inaugurated on August 6th after its completion on time.
He added that the project have been constructed by the Egyptian Army for the last ten months at a cost of US$8billion and the route is set to reduce the current navigation time from approximately from 22 to 10hours.
Mohab said the canals will be also connected to four of its smaller waterways and they will see the route being the fastest in the area and shipping between Europe and Asia will be affordable and reliable.
The New Suez Canal is considered a priority project since it has been ongoing even during the period of political turmoil that led to ousting of President Hosni Mubarak.
The New Suez Canal project officials said the construction is now at 85% completeand is expected to be completed by July and inaugurated by August.
Mohad added that the government is expected to open up its International logistics and industrial hub a place near to the Canal that will  improve the growth of the country's economy.