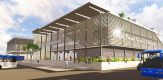 Redevelopment of the Cape Town Cruise liner Terminal is expected to be complete by December 2017 under the V&A Waterfront management.
The company which is owned by Growthpoint and Pension fund was awarded the bid by Transnet National Ports Authority for upgrading the facility which is located in Eberth, Duncan Dock in the Port of Cape Town.
V&A Waterfront has been tasked with the financing, design, construction and operation of the Cape Town Cruise liner Terminal for 20 years. The project is a 3 phase development and the first phase is expected to cost US $14.21m.
According to the CEO of the company, David Green, the redevelopment of the existing terminal building will take 2 years. The mandate starts in September for the cruise season.
Upgrading the terminal will help increase passenger experience. This will be extended to V&A Waterfront which has over 100 000 visitors in the peak seasons.
Green also noted that the development location near the Silo District would be a great contribution to the economy of the region.
The development of the Cape Town Cruise liner Terminal in V&G Waterfront would help contribute US$17.85bn to the normal gross domestic product by 2027.
The terminal will be constructed in such a way that it becomes a multi-use facility so that it can be all rounded. Baggage handling facilities will be worked on and the retail activities that go with the terminal will also be scaled up or down with response to demand.
Green further noted that cruise liner tourism is fast growing globally and redevelopment of the terminal will see more than 10 000 visitors in the Western Cape in every year something which will generate more than US $15.96m for the local economy.