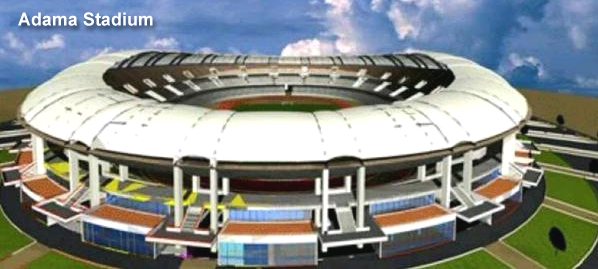 Adama which is a city in central Ethiopia is to construct a US$ 82m stadium that will have a capacity of accommodating 80, 000 people; this was confirmed by the Ethiopian Football Federation (EFF) President Juneydi Basha.
Currently, Ethiopia is undertaking a several stadium construction upgrades and similar projects are also under way in Makalle, Hawassa, Nekempte, Dire Dawa and Woldiya among others. The much anticipated stadium is the enormous one which is still under construction in Addis Ababa Stadium (Adey Abeba) and Olympic village project scheduled to be completed in a couple of years time, while the recently CAF ratified Bahir Dar Stadium has already started hosting international competitive games.
The multi million project will be erected in Adama region and this initiative will hopefully make a valuable contribution to the local people, the nation and its culture, enhancing Ethiopia's sporting profile and increasing the country's revenue.
Ethiopia is doing so well in its infrastructure at the moment and this has so far enhanced the country's economy. Apart from the upcoming stadiums, the country is doing well on road construction and also the completed 32km Addis Ababa Light Rail.