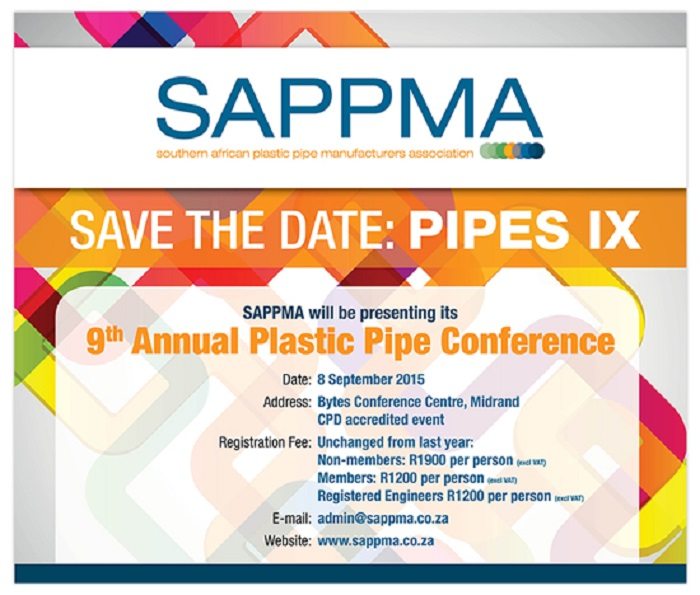 Tuesday, the 8th of September 2015, will see 15 of local and international experts in the field of plastic pipe manufacture and infrastructure take to the stage, when they present their papers at the PIPES XI Conference in South Africa hosted by Plastic Pipe Manufacturers' Association (SAPPMA) at the Bytes Conference Centre in Midrand, with the support of the four main sponsors Protea Chemicals, DPI Plastics, Marley Pipe Systems and PipeFlo.
"It is no coincidence that universally the number 9 is associated with service to humanity, leading by positive example, selflessness, destiny, life purpose and soul mission, generosity, a higher perspective, responsibility and strength of character. We are anticipating that the 9th PIPES XI conference in South Africa will play an important role in re-igniting the passion and the focus of our delegates as we highlight the important role and responsibility the pipe and related industries have to fulfil in our country's future," says Jan Venter, Chairman of SAPPMA.
Well known economist and keynote speaker Mike Schüssler will kick off the day's discussion, followed by Prof Kobus van der Walt of the North-West University who will be discussing the country's water crisis.
Other confirmed speakers on the day include:
• Willem Wegelin (WRP) – Pressure Management in Water Reticulation Systems
• Dieter Mueller (Battenfeld, Cincinnati) – New technology in HDPE pipe extrusion
• Ian Venter (Marley Pipe Systems) – The importance of HDPE and PVC SANS permit conditions to the specifier and end user
• Marcus Hawerkamp (Bauku) – High strength spirally wound pipe and fibre reinforced spirally wound pressure pipe and pipe fittings for large diameters
• Kirtida Bhana (Plastics|SA) – Innovate…before it's too late
• Dr Mark Webb (SSIS) – Pipe Behaviour, Soil Behaviour & Soil-Pipe-Interaction
• Mike Smart (Genesis Consulting Engineers) – Trenchless Technologies: a specifically engineered pipe
• Rachid Zahidi (Unicor) – High speed corrugated pipe manufacture: properties and installation
• Pranesh Maniraj (Marley Pipe Systems) – Electrofusion: A suitable alternative to buttwelding
• Alaster Goyns (Pipeline Installation & Professional Eng Services) – Importance of assessing sewer condition before rehabilitation
"There is no denial that the pipe industry is under pressure and going through a tough time. However, we know from experience that tough times don't last – tough people and companies do. Attending the PIPES IX conference in South Africa will expose delegates to the latest research and findings, and provide a rare opportunity for the sharing of relevant ideas and best-practices that have been tried and tested by the leaders in the field. It is of vital importance for current and aspiring engineers, plastic pipe manufacturers, specifiers and installers to attend the conference so that they can broaden their thinking and understanding of the issues at hand. Whilst we need to learn from yesterday, live for today and hope for tomorrow, the most important thing is never stop questioning and learning," Venter concludes.
The attendance fee has remained unchanged from last year, i.e. R1 900 per delegate for non-SAPPMA members, and R1 200.00 for SAPPMA / IFPA member companies and for registered engineers. A special discount structure in place for group bookings of 4 delegates or more. CPD points are available for professional engineers who are attending the conference.
For more information:
Monique Holtzhausen
Aim Marketing & Communications Consultants
Tel: (021) 531-0313
Cell: (071) 083-5219
Email: [email protected]