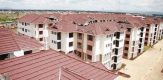 The reconstruction of old housing units in Kenya which will cost up to US$ 3bn is set to commence soon in the capital Nairobi with 26 local and foreign investors having expressed interest; this is according to Lands executive Tom Odongo.
Mr. Odongo said that the bids are undergoing valuation following the closure of Expression Of Interest on July 17.
"The firms that qualify at the Expression of Interest stage will be issued with Request For Proposal documents whose evaluation is expected to be completed by the end of November, thereafter we will announce the winner who will then be awarded the project construction which is set to commence in January 2016," he said in a statement.
The reconstruction of old housing units in Kenya in the capital Nairobi will be done in phases where 14,000 units will be constructed in the first phase. The new housing units will accommodate approximately 650,000 people and entail a 3,000 car parking complex that will be constructed at the Sunken Car Park in the CBD.
They reconstruction of old housing units in Kenya Nairobi, will be done in Old and New Ngara, Pangani, Jeevanjee/Bachelors, Ngong Road Inspectorate staff quarters, Uhuru and Suna Road estates, Bahati, Mbotela, Ziwani, Makongeni, Kaloleni, Jericho and Shauri Moyo.
City Mortuary and Pumwani Maternity, Mutuini, Mama Lucy Kibaki and Mbagathi hospitals will also be renovated.
Kenya is grappling with enormous housing deficit and the government has been trying to construct more houses.