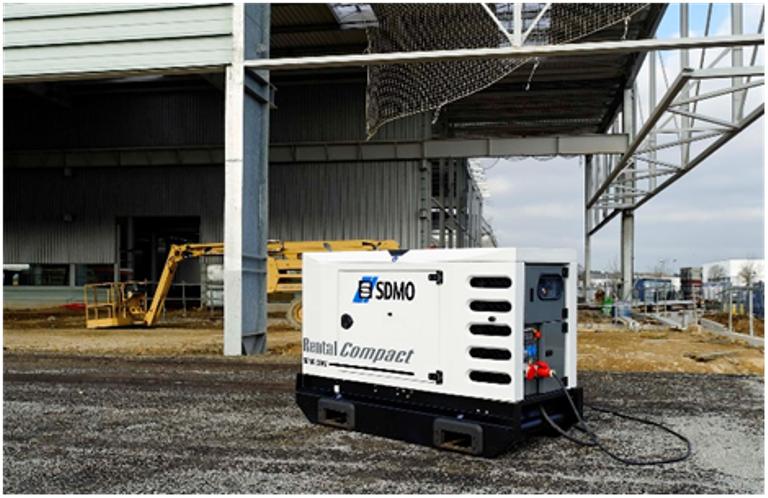 SDMO®, the French market leader and the third largest generating set manufacturer worldwide, will present its new energy solutions, and especially products designed to meet the requirements of the rental and construction markets) in its stand T1.315 (outdoor area) at the BAUMA CONEXPO AFRICA trade fair to be held from 15 to 18 September 2015 at Johannesburg Expo Centre.
As a global specialist of made-to-measure energy solutions for 50 years, SDMO® proposes standard generating sets from 1 to 3,000 kVA complemented by expert "tailor-made" solutions developed by its engineering department.
SDMO© numerous references all over the world, together with the efficiency of its global distribution network, local storage platforms and sales offices, are an evidence of its capacity to supply an efficient response to the local energy needs (whatever the application and the power needs).
The rental range offers products designed to meet all kinds of requirements:
Portable Power: generator sets (3 to 7.5 kVA) that feature a reinforced chassis ensuring ease-of-use, robustness and safety.
Lighting: lighting towers for use on building sites or on the road that provide a source of light even in isolated locations.
Event: generator sets (250 and 318 kVA) integrating high-performance, noise-reduction technology to meet requirements for events and urban environments.
Rental Compact: mobile generating sets available in a wide range of outputs, in 50 or 60 Hz. They offer ingenuity, compactness and high levels of performance. Their technical features enable them to perfectly match the rental market's needs.
Contenergy: high-output generator sets (715 to 2,500 kVA) enclosed in containers that provide sound insulation and designed for large-scale construction sites.
Designed to ensure easy handling, safety and high levels of performance for users, SDMO®'s Rental Compact line includes around 20 generating sets to meet the specific requirements of any country in terms of frequency, emissions and output.
Today, SDMO®'s Rental Compact range is complete and can be marketed worldwide. It now includes:
– 50 Hz Stage III versions, which meet European Union standards
– 50 Hz «RC» models from 20 to 500 kVA and fitted with non-certified engines in order to cover the needs of African countries and European countries outside the EU.
– 60 Hz versions which are dedicated to the markets of Latin America, the Middle East.