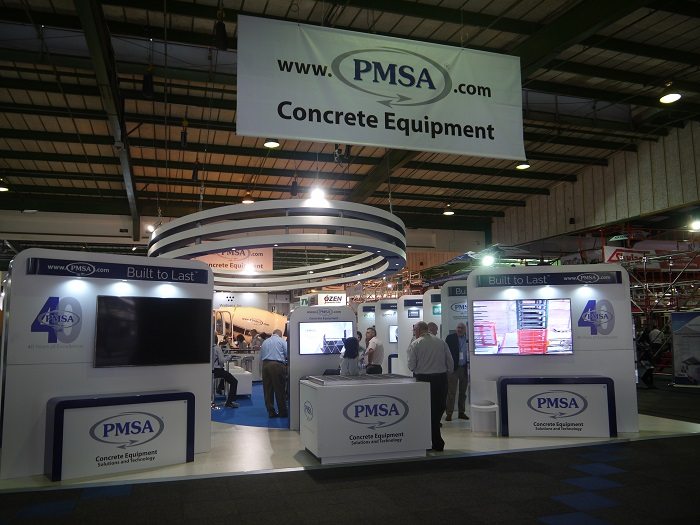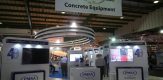 Pan Mixers South Africa (PMSA) hosted international representatives of various major new products at its stand at Bauma Conexpo Africa 2015 in South Africa.
With a major indoor presence in Hall 5, as well as an external area featuring a full-scale IMER wet-batch plant, Africa's leading manufacturer of concrete, block, brick and paving machinery reported major interest from existing customers, visitors and potential new clients.
"At Bauma Conexpo Africa, decision-makers are presented with an extremely broad range of mining, civil and building equipment," Walter Ebeling, managing director of PMSA, says. The company exhibited at the inaugural event in 2013, with 2015 marking a significant increase in its presence at this year's premier exhibition.
Quintin Booysen, sales and marketing manager at PMSA, says there was major interest expressed in the total solutions package on offer. The company's major theme at Bauma Conexpo Africa 2015 in South Africa was 'Thinking About Concrete? Think PMSA'.
"Customers in Africa need local support and technology best suited to the challenges and rigours of operating in Africa, such as remote locations and a lack of skills, particularly in terms of preventative maintenance," Booysen comments.
Kevin Hickman, technical services manager at Eco Filters of the UK, says that the company was particularly pleased that PMSA had been elected to be its official representative in South Africa.
The world's leading manufacturer of filters for the wet press concrete industry, the company has an extensive range of filters for use in the production of all types of wet pressed concrete products.
"Our filters are manufactured at our factories in the UK and Dubai, from where we service our global customer base. All of our filters are produced to precision engineering standards, and by using the latest technology," Hickman confirms.
A particular feature of the filters is that they are compatible with all major types of wet press concrete machinery, whether single- or three-mould. "These are essentially paper-replacement filters for use in concrete wet pressing machines," Hickman explains.
Eco Filters can manufacture filters in a range of sizes to suit specific requirements, while perhaps the most exciting feature is that specific design requirements can also be accommodated, from logos to various finishes.
"We have a technical service department with an incredible depth of experience in the wet press concrete industry.
This expertise is on hand for all of our customers to tap into, including technical advice and on-site support," Hickman adds.
Manfred Ludwig, managing director from Ludwig Moisture Control of Germany, was on hand to demonstrate the company's FL-MOBIMIC Profi Check mobile moisture-metering unit. "Our on-site testing unit evaluates the temperature and moisture of bulk materials of all kinds," he elaborates.
Featuring a user-friendly operation and seamless integration of wireless technology or USB laptop connection, the unit allows for convenient evaluation, quality control and monitoring during every phase of processing, from initial evaluation of the materials to be processed right up to the finished product.
Michael Kraft, managing director of Kraft Curing Solutions of Germany, revealed that by installing the company's full curing system on their precast brick and paver plants, customers can realise cement input cost savings of up to 30%.
"This is of particular importance in the context of Africa's infrastructure build-up, where we see a major opportunity for this technology. It is also the main reason we have partnered with a company like PMSA, which has such a strong foothold through the continent," Kraft comments.