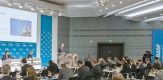 The BASF Canada Inc., a Canada based company has launched its HP+TM Wall System XR Series product at the Construct Canada expo. The product is part of its commitment to provide innovative materials for the construction industry.
The HP+ Wall System XR Series allows builders to use a system with improved structural integrity, reduced air leakage and superior thermal efficiency, while potentially reducing the amount of materials used in construction. The product can as well be used to construct walls that are no thicker than conventional walls, with seamless integration into conventional construction projects.
The product has been described to save time and allows builders to remain consistently ahead of schedule. The new product also offers competitive edge for the construction professionals.
According to BASF Canada Inc. Business Development Manager, Pierre Couture, Builder training is conducted directly on their site since a three-storey condominium building and the system has already been successfully implemented in multiple homes.
The System has been designed to meet or exceed requirements for a nominal R-value of up to 45.8. However, the product's specifications meet the requirements for energy-efficient design and construction in the National Building Code of Canada. HP+™ Wall System is a registered trademark of BASF Corporation.
BASF Canada is headquartered in Mississauga, Ontario, and has 670 employees at 13 production facilities and offices located across Canada. BASF Canada is a subsidiary of BASF SE, Ludwigshafen, Germany and an affiliate of BASF Corporation, Florham Park, New Jersey. BASF has more than 17,000 employees in North America, and had sales of $20.6 billion in 2014.