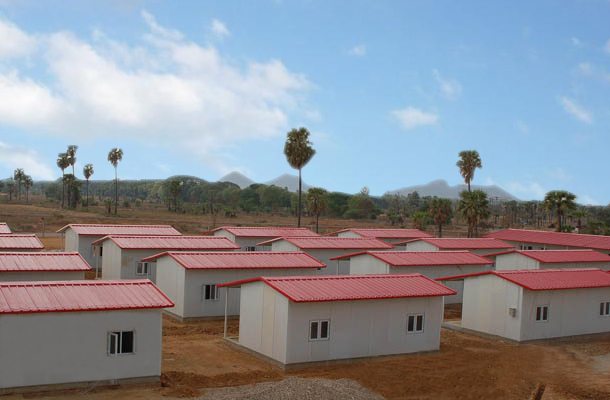 The construction of affordable housing in Ghana is fast gaining traction after Thywill Business and Investment Consultancy Limited (TBICL), a consultancy and construction company announced plans to construct affordable houses for average residents.
TBICL Chief Executive Officer Christopher Foe says that the company aims at introducing the new technology known as Gas Concrete Technology (GCT) that ensures cheaper production cost. Currently, talks are ongoing with some of their partners from Europe who will start training its staff and hopefully roll out the prototypes after all necessary processes have been satisfied.
The materials used with the gas concrete technology require no air-conditioners and are environmentally-friendly. The materials are technically qualified having met the international standards and regulated room temperature and when it comes to weight and stamina it's capable of supporting couple of storey buildings.
Expressing his gratitude, Mr. Foe said TBICL's total quality management has in a great way undertaken the landmark projects such as the Damango – Kpassa Water Supply System, , dormitory blocks, classrooms, offices, apartments and construction of transmission works.
TBICL's has been rated the most responsive and competitive company by the Millennium Development Authority (MiDA).
Ghana is currently facing a deficit of about 1.7million housing units. However, Sammy Ameyibor, the Ghana Real Estate Development Association (GREDA) Acting Executive Director, told the GREPA that the real estate sector has been experiencing a decline, attributing the decline to high production cost, inflation rates, high tax regime and high interest rates, among others. He however, proposed the establishment of a bank for housing and strong public-private partnership, particularly with indigenous firms.
Prof Aheto, the TBICL Board chairman confirmed the company's intentions to venture into the international market.
TBICL specializes in construction, engineering human resource training and development and international trade. The company is a registered and incorporated under the Companies Code, 1963 (Act 179) on November 11, 2005. Today, it is engaged in the construction of buildings of educational facilities throughout the country, roads and other civil engineering works