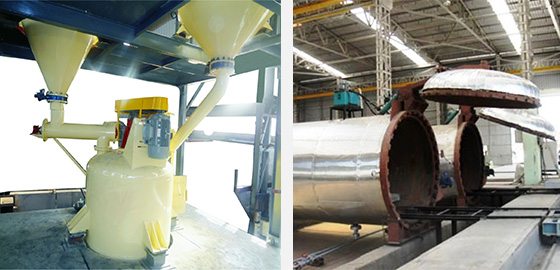 Gubbi Enterprises, an Indian based concrete plant manufacturer have launched a new product, Autoclaved Aerated Concrete (AAC) plant.
Located in Wada, Palghar District, in Maharashtra, Gubbi Enterprises is a leading manufacturer, supplier and exporter of construction equipments. The company boasts the most advanced factory in the concrete machinery sector and are proud of the milestone in their timely introduction of such an efficient plant through their Research & Development.
The new plant comprises autoclave as an accessory which cures the blocks, hence additional strength. Blocks in the autoclave are kept under high temperature for 8 to 10 hours, this process makes them more compact as they do not break and instead remain strong and solid for use in construction activities.
Autoclaved Aerated Concrete (AAC) Block Plant is advantageous as it is advanced thus turning out maximum production and also requires minimal labour force.
AAC Block Making Machines are available on order placing basis and will be offered at very reasonable price and will be installed and commissioned at client's site to their utmost satisfaction.
In addition to machine production, Gubbi Enterprises have established a name in the market as one the leading AAC Plant Consultants because of their vast experience in their field.
Gubbi Enterprises offer consultancy services to their clients and those who need advice about the technical and operational aspects of their AAC Block Making Machines. They also provide consultancy on site requirements, such as area, power connection, and quality of Fly-ash to be used alongside water & other chemicals.
Therefore, their customers can get trained on live production at their plant before transportation of the equipment to the customer's premises.
Gubbi Enterprises have in the long-run gained superiority in their sector in India, given their adoption of most superior technology and their precision in attending to client needs.