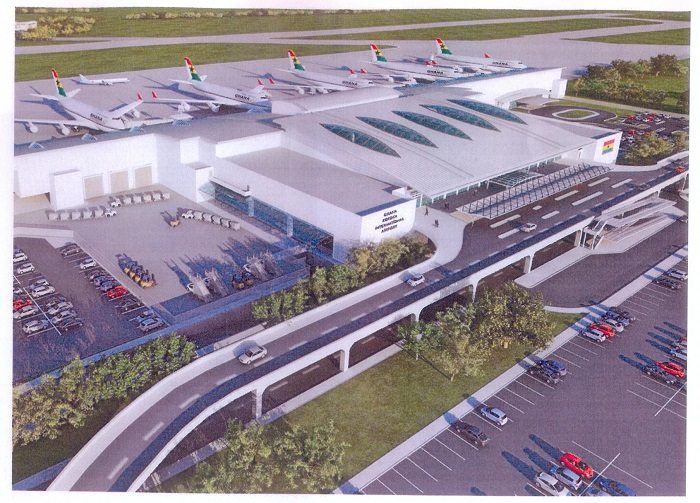 Construction work on new terminal at Kotoka airport in Ghana is expected to begin when President John Mahama and his counterpart Turkish President Recep Tayyip Erdogan perform a ground breaking ceremony for the project.
The new terminal, will be known as Terminal Three (T3). The project, is expected to ease the pressure on the two existing terminals and improve the existing on-ground infrastructure in line with the growing international travel demand, and position the country as an attractive aviation hub in the sub-region.
According to President Mahama, construction work is currently on-going on the ultra-modern international terminal T3. The terminal is designed to accommodate 5 million passengers per annum. The terminal will as well process 1,250 passengers an hour and will have six boarding bridges.
The Turkish construction company has already taken possession of the project site and have started working feverishly on the monumental aviation project.
However, Ghana Airports Company Limited (GACL) has secured a loan worth US$250m to undertake construction of the new terminal. GACL Managing Director, Charles Asare confirmed the loan acquisition and that the loan has been secured from a consortium of banks led by Ecobank Capital.
The initial proposal is to construct the third terminal to be known as Terminal 3 within the KIA enclave including the runway, the aprons, ground lights, underground fuel lines, runway lights and taxi-ways. The expansion purpose is to accommodate the increasing number of passenger as well as the growing number of airlines servicing the KIA.
GACL is also responsible to retain 100% of its revenues – turned to private capital to improve aviation infrastructure in the country. Nonetheless, the company has put aside a special fund solely for the country's airport infrastructure.
Additionally, GACL has raised US$150m capital to finance the development of the existing regional airports in the country. The funds are to be expended on the rehabilitation of the Wa aerodromes; Sunyani, as well as the construction of the new airport at the Volta regional capital, Ho.