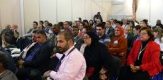 The Arab Contractors Association chairman, Fahd Mohamed Al-Hamadi invited the Sudanese Contractors Association to take part in the upcoming Exhibition and Conference of Arabic Iraq, which is scheduled to take place in the Jordan's Capital, Amman during 22-24 of next May which is intended to introduce Iraqi rehabilitation projects and highlight available investment opportunities in all sectors in Iraq.
According to Al-Hamadi said, the fair will give Sudanese companies a good opportunity to take advantage and exchange knowledge and ideas  with contractors from the Arab world taking part in the exhibition, saying that the exhibition will be open before to all actors in the construction and building sector in the Arab states, which currently amount to 215 companies plus 13,00 factories adding that there will be sections for all Arab countries such as , Egypt, Saudi Arabia, Sudan and Qatar and Turkey.
Al-Hamadi emphasized that the conference would be taken as an application for the association's scientific policies of the existence of a joint scientific office including more than professors in the contract sector to undertake a study of the projects available in Iraq and propose ways on how to implement them. He said that there will be dialogue and a discussion attended by the 11 Iraqi ministers taking part in the fair, adding that there will also be on the fringes of the conference convened to honor some Information Ministers in the Arab World for their prominent and effective roles and contributions in supporting and promoting contract sector in the Arab states.
It is to be remembered that the Arab Contractors Association had organized and took part in four conferences before that resulted in several joint cooperation treaties between the contract companies in the Arab World and implemented agreements of Arab factories.