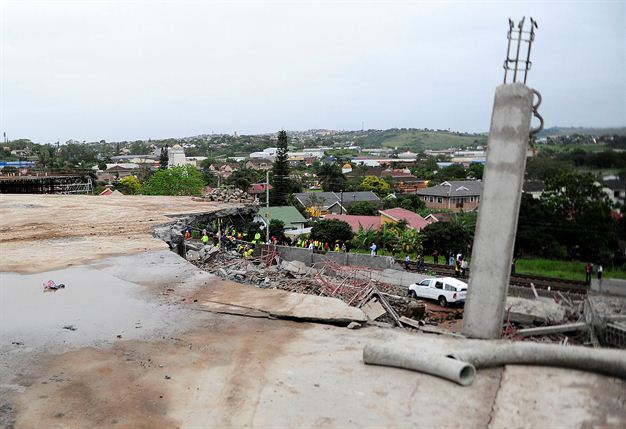 A report detailing the findings of the 2013 Tongaat Mall collapse in South Africa will be handed over to the National Prosecuting Authority(NPA) for a final decision on whether to initiate charges against anyone, Minister for Labour Mildred Oliphant said recently.
The investigation found among other things contraventions of the Occupational Health and Safety Act and construction regulations.
The final report would be handed over to the Director of Public Prosecutions in a month time, for a decision on whether to prosecute.
The minister said the department would not take action against those implicated in the report unless the National Prosecuting Authority decided to initiate the prosecution.
Two people died and 29 others sustained serious injuries when a section of the mall collapsed during construction on November 19 2013.
The neck of a column exploded, causing the concrete slab it was supporting to come down and crush the two workers.
The chronology of events unfolds when Rectangle Property Investment purchased the stand on 263 Gopallala Street in Tongaat in 2012 from Strathmore Property Investment Trust.
Also Included in the purchase were unapproved plans since their initial submission on January 31 2007 by Strathmore. In February 2013 the developer made an application to start earthworks at the site.
The application was rejected on March 20 2013. Consequently the building plan could not be approved after the earthwork application was rejected. Excavation work had already started and at an advanced stage on March 8 2013 despite failure to secure approval for the plans. Axion Consulting Engineers Services was appointed as the design engineer for the project when it still under Strathmore.
In the report findings, the department unearthed some inconsistencies that led to the collapse of the mall. Beam 7 was poorly constructed; piles for some of the columns had been under-designed and overloaded. There was lack of competent supervision at the construction site. The materials used for construction were substandard such as the cement imported from Pakistan that did not meet the requirements of SA Bureau of Standards.
Investigators on their part found contraventions of Section 4 of the National Building regulations and Building Standards Act because the construction started before it was approved by the local authority.
Similar Posts: