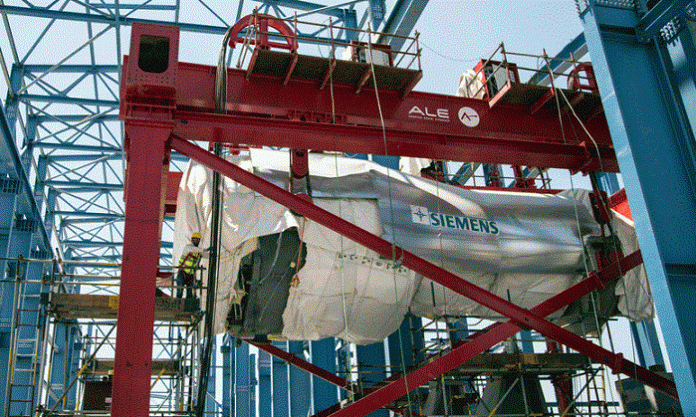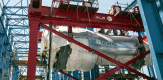 Construction of the Beni Suef power plant in Egypt has received a major boost after Germany based company placed its first gas turbine.
According to the officials the firm marks arrivals of  four turbines at Beni Suef, which is set to become the world's biggest gas-fired combined-cycle power plant
The Four H-class 400 megawatt (MW) gas turbines arrived and has been already placed by its technical engineers in the foundation alongside six 500 kilovolt (kV) generator transformers which have been engineering by Siemens.
The power plant is currently being undertaken in Egypt and approximately 4,000 skilled Egyptian workers are on it.
Once the plant is completed its expected to have a capacity of 4.8 gigawatts once completed, providing electricity for 15 million people
The projects is being constructed 110 kilometers of the southern Cairo, the Beni Suef plant will start supplying its first electricity to the national energy grid as early as this winter. To achieve that, it will initially be operated in so-called "simple cycle mode", Siemens said. By subsequently adding heat exchangers and steam turbines it will be expanded into combined cycle mode reaching a total installed capacity of 4.8 gigawatts (GW).
With its local partners, Siemens has plans to build a total of three natural gas-fired combined cycle power plants in Egypt, with a total capacity of 14.4 GW.
The power plant is expected to be a solution to the current power shortage that is facing Egypt and it's among the many projects inaugurated to cub the power shortage.
Siemens is working along with local contractors in delivering the project and is expected to be completed in early 2017.
Willi Meixner, CEO of the Siemens Division Power & Gas sais they are proud to be part of this vision and to celebrate another step towards its realization today.